Last week marked this year's annual OCD Awareness Week, which spanned from Oct. 13 to 19 and aims to educate the public about Obsessive Compulsive Disorder through lectures, fundraisers and social media posts.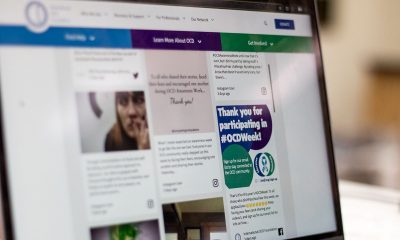 This year the International OCD Foundation mounted a social media campaign encouraging people to take pictures of themselves doing something that makes them anxious or uncomfortable and posting it on social media with the hashtag, "#FaceYourFear." Their site now includes a wall of posts from people giving support to those with OCD.
To commemorate OCD Awareness Week, The Daily Free Press spoke with various experts on OCD and mental health in order to share information about the disorder.
Gail Steketee, a professor and dean emerita at the Boston University School of Social Work, said it is necessary that students in particular understand OCD. 
OCD affects around 2 percent of the population, with many people experiencing its effects for the first time while in college according to Beyond OCD. The basis of OCD, Steketee said, consists of obsessions that provoke discomfort and lead to physical and mental compulsions that relieve tension. 
"Some obsessions can be concerned about contaminants leading to excessive cleaning and handwashing while others may be based on the imagined fear of making major mistakes causing patients to constantly check to make sure they didn't do anything bad," Steketee said. "It took people a while to figure out that they're all different versions of OCD."
Julianne Wilner Tirpak, a clinical psychology doctoral candidate in the College of Arts and Sciences, said during her time at BU's Center for Anxiety and Related Disorders she learned patients attempt to neutralize their thoughts — leading to the inadvertent dominance of their compulsions. 
"I think that OCD can be a very isolating experience," Wilner Tirpak said, "because so much of it happens in your own head."
Obsessions which involve thoughts of causing harm to others can be a part of an anxiety disorder that is consequently treated as strange, Steketee said. She said that everyone has intrusive thoughts or impulses that they get alarmed, but that's normal — odd thoughts are a part of every human experience.
"It's common for people to be sensitive to OCD symptoms when obsessions are about causing harm, it's a common OCD obsession but people don't want to report to someone else because it's scary to admit you want to pick up a knife," Steketee said. "It feels quite upsetting — would you really do that? The answer is actually no."
The public, Wilner Tirpak said, tend to associate OCD with the need to constantly clean. However, she said, the habit of cleaning as related to OCD has often been exaggerated.
"One of the biggest misunderstandings in the public about what OCD really is involves the confusion between Obsessive Compulsive Disorder and Obsessive Compulsive Personality Disorder," Wilner Tirpak said. "A lot of the times people who clean a lot will say 'Oh I'm so OCD' but more often than not cleaning is just a personality tendency."
Dania Haj-Darwish, a sophomore in CAS, serves as the co-chair of the Undergraduate Student Government Mental Health Committee and works on eliminating stigmas surrounding mental health on the college level. 
There are a number of concerning misconceptions about mental illness, Haj-Darwish said, especially when it comes to the abilities of those afflicted.
"I think there is a stigma that is subconscious that causes people to associate mental health issues with weakness," Haj-Darwish said. "People with anxiety are deemed weak like they can't handle the situation."
Haj-Darwish said she and her co-chair are hoping to develop an online portal to help students have easier access to resources that can help normalize anxiety and depression on campus. 
"People give you that look when you go to a therapist like it's a taboo to talk about it," Haj-Darwish said. "Hopefully through access to resources it won't be weird to go to a therapist anymore. It'll make it easier for people to talk about all of it."