Halloween, for many Americans, marks the beginning of a holiday season filled with food and desserts. And although they might not be trick-or-treating anymore, college students will likely still indulge in their fair share sweet treats.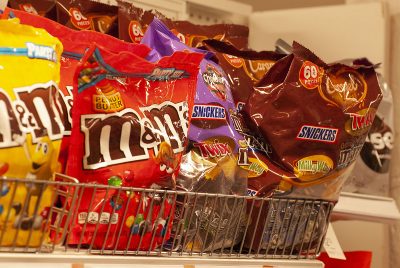 While it might be tempting to spend Oct. 31 gorging on chocolate bars, peanut butter cups and candy corn, health professionals at Boston University warn that students now, as always, should remain conscious of what they are putting into their bodies. 
Rachel Reynolds, assistant director and senior nutritionist at the Sargent Choice Nutrition Center at BU, wrote in an email that the food environment around people in college impacts how they eat. 
"This already challenging food environment becomes even more difficult to navigate during the holiday season as our environment becomes increasingly filled with pleasure foods, making it even harder to be thoughtful," Reynolds wrote.
For some people, it is reasonable to enjoy only one piece of candy each day, Reynolds wrote, but when candy is everywhere some find it more challenging to have only one or two pieces.
"Foods that contain these less healthful components are not 'bad,'" Reynolds wrote, "as a healthy eating pattern has room to include foods that we enjoy, regardless of their nutrition profile."
Vasiliki Maseli, a clinical professor at BU's Henry M. Goldman School of Dental Medicine, said that cases of dental cavities spike during this time of year, but that everyday habits are the most important thing in preventing cavities.
"The biggest part of this kind of holiday is candy, absolutely," Maseli said. "It can play a significant role."
Bacteria in the oral cavity metabolizes the sugar that we eat, Maseli said. This creates an acidic environment inside the mouth, which makes the tooth structure more susceptible to break down.
It is not the amount of sugar we consume, but the frequency at which we eat it, Maseli said. It is better, she said, to eat an entire chocolate bar at once rather than throughout the day, because each time sugar is introduced to the bacteria, the acidic environment is recreated. Maseli said it takes 30 to 60 minutes for the oral environment to neutralize again.
Some preventative measures to lower the risk of cavities include eating a meal before sugar to neutralize the acidity, drinking water to rinse away the sugar or sticky debris left between the teeth, chewing sugar-free gum to increase saliva flow and brushing the teeth, Maseli said.
"Whatever is healthy for the body is healthy for the teeth," Maseli said.
The National Retail Federation reports that Americans will spend $8.8 billion on Halloween this year, with candy being the second ranking category at $2.6 billion (costumes came in first).
Hannah Schill, sales associate at the Teuscher Chocolatier on Newbury Street, said chocolate is a seasonal business. 
Schill said Teuscher is known for its truffle boxes, of which they have a line of Halloween themed witch, ghost and vampire boxes. The Swiss truffles have a lower calorie count — 80 calories — than other candies, Schill said, which often surprises people.
Schill said she does not feel guilty for encouraging customers to eat chocolate.
"I don't believe that the solution to health problems is cutting out sugar," Schill said. "And I really don't think that indulging in cravings is a sensibly bad thing." 
Schill said she believes the pattern of restriction and overindulgence worsens the problem.
"I feel happy to encourage people to eat chocolate," Schill said.
Reynolds wrote that people don't have to live without their favorite foods, but reminds them to stay mindful of the foods that cause them to feel satiated and energized.
"My advice to any person during the holiday season," Reynolds wrote, "is not to worry about which foods are 'best' or 'worst' or 'allowed' or 'not allowed' as all foods can fit into a healthy eating pattern."
The best way for college students to approach Halloween in a health-conscious way, Maseli said, is to eat it only once per day as opposed to throughout the day to maintain a neutral oral environment.
Maseli said she would not recommend gummy or chewy candies that can stick to the teeth or sour candy which is more acidic. She would recommend dark chocolate, which she said has some antioxidant properties.
Everyone needs candy, Maseli said, so just enjoy it.
"But, you know, everything in balance," Maseli said. "Everything in moderation."