Enter a serene courtyard where the light shines from the transparent roof and see a vocalist approach random visitors with a simple question: "May I give you the gift of a song?" Agree, and be serenaded with a personal performance of one of five lieder, German art songs by Franz Schubert.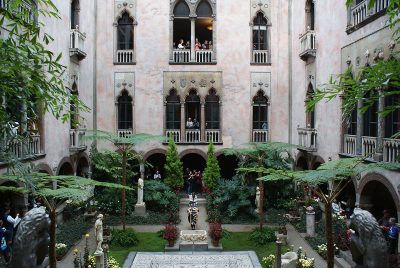 While museum exhibitions typically engage with one's sense of sight, the Isabella Stewart Gardner Museum's latest exhibition "In the Company of Artists: 25 Years of Artists-in-Residence" wants to engage with viewers in different ways.
The exhibition, which opened to the public on Oct. 17 and will leave Dec. 1, consists of a collection of works created throughout the past 25 years by the museum's artists-in-residence, who are invited to live and work at the museum for varying intervals of time. 
"Sonic Blossom," one of the exhibition's pieces, is a participatory performance where random visitors in the museum's courtyard are asked by a solo vocalist whether they would like a song and are subsequently led to a chair where the singer performs for them. 
Created by artist Lee Mingwei, who has frequented the museum since his residency there in 1999, "Sonic Blossom" is a participatory installation which has been featured in museums globally and throughout in Boston since its conception in 2013.  
Pieranna Cavalchini, the Gardner Museum's Tom and Lisa Blumenthal Curator of Contemporary Art curated the exhibition. Cavalchini, who has worked at the museum since 2002, said she has had a large role in inviting artists-in-residence to showcase their work at the museum. 
Cavalchini said she wanted to carry on Isabella Stewart Gardner's legacy of inviting artists into her home or letting them live with her.
"It was interesting to make this exhibition because I really wanted to get across the idea of the legacy that existed in this place it was," Cavalchini said. "[Gardner] really created the haven for artists."
Caitlin Dalton, a professor of art history and architecture at Boston University, said the museum's support of artist residencies has created a dynamic space in which artists can respond to the institution and the city of Boston.
"The prompt for artists to consider their relationship with the museum's collections, space and history has led artists like create works they would never have imagined outside of this context," Dalton said. 
The artist-in-residence program was started by Anne Hawley, a former museum director, in 1992, but follows a long tradition of engaging with artists started by Gardner herself.
The new exhibition, which will remain on display until January 2020, includes works in the Hostetter Gallery by Sophie Calle, Bharti Kher, Luisa Lambri, Laura Owens, Rachel Perry, Dayanita Singh and Su-Mei Tse. 
Cavalchini said while nothing in the museum is physically adjusted by the "Sonic Blossom" exhibit, the work fundamentally alters the museum's atmosphere.
"I feel the museum's rhythm has changed somehow, slightly slowed down," Cavalchini said. "People are more careful, less noisy, less rowdy, looking at things maybe for a little bit longer."
Robin Meyers of Back Bay said she saw multiple performances of "Sonic Blossom" from the balcony of the Dutch Room on the museum's second floor which overlooks the courtyard. 
"The rest of the world and everything outside of this courtyard paradise seems to fall away when [the vocalist] starts to sing," Meyers said. 
Dalton said she thinks Mingwei often works to establish transformative encounters that create an exchange between strangers.
"I think it is exciting whenever an artist can disrupt or dismantle our expectations," Dalton said. "With 'Sonic Blossom,' even the museum-goers who are not actively part of the exchange would be forced to consider their own presence in the space. Whether in the museum or elsewhere in life, our behavior changes when we realize we aren't expected to be passive consumers."