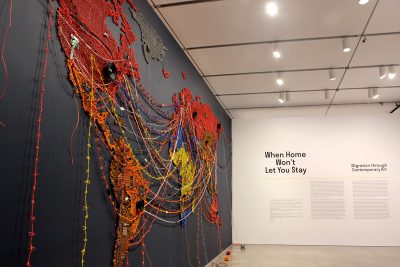 Walking into the Institute of Contemporary Arts' newest exhibition, viewers look upon a colorful wired map of the world. The artwork, titled "Woven Chronicle" by Indian artist Reena Saini Kallat, uses electrical wires to draw paths of frequently traveled routes to and from different global regions against the background of a kaleidoscope world. 
The ICA's new exhibition "When Home Won't Let You Stay: Migration through Contemporary Art," examines how artists are responding to the present-day issue of migration. 
The exhibition is currently open and features artwork from 20 artists in a variety of media. Eva Respini, the Barbara Lee chief curator of the ICA said this is a particularly important issue to explore through art in today's environment. 
"Today, more people are on the move than ever before," Respini said in a tour. "We're living in an era of mass migration." 
"Woven Chronicle" is accompanied by a soundscape which is meant to represent what Mannion Family curator, Ruth Erickson, described as the "global hum of steady movement."
Another multimedia piece that takes up an entire room is "The Crossing," a video installation by Carlos Motta. The installation shows video profiles of five individuals who fled to the Netherlands to escape persecution related to their gender identity or sexual orientation.  
Other pieces featured in the exhibition focused on more personal stories of migration, rather than on the topic of migration as a whole. For instance, a series of four paintings by Aliza Nisenbaum depict scenes of a family that Nisenbaum became close with while she was teaching an English language class at Immigrant Movement International in Queens, New York. The paintings focus on the family's everyday lives. 
In addition to the exhibition itself, there will be other events held in conjunction with "When Home Won't Let You Stay" during its stay at the ICA. Some of these events include film screenings, artist discussions and gallery talks.  
Erickson said that the extra programming provides an opportunity for attendees to experience more than what is covered in the exhibition itself. 
"I think what you get through a program is a chance for conversation, you get a chance to bring in new voices who haven't been shared through the exhibition," Erickson said. "You also get the chance to be there with other people."
Respini added that these events help explain a topic as complex and divisive as migration. She said she hopes viewers leave "When Home Won't Let You Stay" with the idea that migration is a multifaceted and nuanced issue. 
"I would hope that viewers get a sense that migration is not one thing. It's not one story, it's not done one way," Respini said. "Hopefully from the 20 artists that are on view here, our audience are able to get a sense of those many, many infinite stories that can be told." 
Erickson said the exhibition and others like it are important because of art's role in relation to present-day social issues. 
 "I think the responsibility of contemporary art museums is to make exhibitions that are connected with the issues of our time," Erickson said. "It's our responsibility to think about art's role in engaging with these questions and issues."  
"When Home Won't Let You Stay" will be on display at the ICA from Oct. 23 through Jan. 26, 2020.