As Halloween draws closer, racks of traditional, eclectic and colorful costumes begin popping up all over Boston. With residents venturing out to look for their costume of choice, local businesses are starting to roll out alternatives to big-name stores.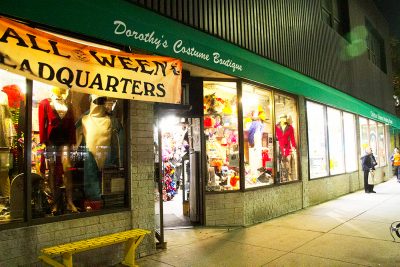 Dorothy's Boutique, a family-owned business on Massachusetts Avenue, has been selling Halloween costumes for more than 30 years. Jon Diamond, the store's manager, inherited the boutique, which opened in 1947, from his mother Dorothy and converted it into a costume shop in 1985. 
With industry giants taking over the market, Diamond said he hopes to offer customers a more personal experience when they are shopping. 
"Especially if you have questions, or size issues, or need inspiration, a store definitely enhances that experience," Diamond said. 
 While Dorothy's offers a vast selection of costumes, Diamond said companies like Amazon are providing heavy competition. 
"They're a beast," Diamond said. "They don't really have customer service like we do with the shop. But, if you know specifically what you want, you can get it the next day before noon." 
 Due to these larger companies, the store is reporting lower numbers than in previous years, Diamond said. 
"Our numbers are way off, I don't have a great forecast for this year. It's going to be okay, but it's not going to be good," Diamond said. "Just because people can just get their costumes on their phone and have it delivered in the next day or two."
In spite of the fact that numbers have recently been low for Dorothy's, Diamond predicts that a business rush is coming. 
"People do like our store and they like to shop, to touch it, and get personal service, which is very important for a lot of people," Diamond said. "It just depends on what your needs are."
Nephtaliem McCrary, owner of Great Eastern Trading Company in Cambridge, said his store maintains a longstanding tradition of transforming from a vintage, second-hand store to a Halloween-themed shop for the entire month of October.
With the rush of people that usually enter the store this month, McCrary said Halloween has become the busiest — but also the most fun — time of the year. 
"We get people from all walks of life and they have extravagant ideas and we make it come to life here at Great Eastern," McCrary said. 
 The Great Eastern Trading team is aiming to inspire and boost creativity this year through their approach to costuming, McCrary said. 
"We are a formidable team to help people create any costume or any idea that they can think of and make it a reality," McCray said. "I am really proud of that and it is something that is very unique to Great Eastern Trading Company." 
 McCrary said he has received some odd costume requests — once he was asked to create a "Sully" costume that combined Flight 1549 pilot Chesley "Sully" Sullenberger and Sully from "Monsters Inc."
"This dude came in and got a blue furry suit that I think was intended to be a Sesame Street costume, and he put on a pilot's jacket and a pilot's cap and he was Sully squared," McCrary said.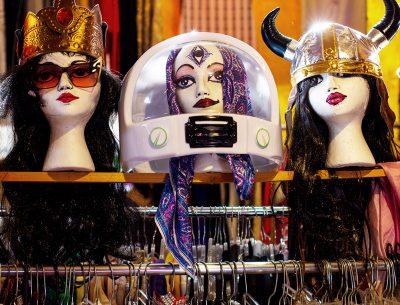 Eric Propp, buyer and rental supervisor at Boston Costume in Cambridge, said there is a lot of build up to the Halloween season. Working at the store provides a sense of independence, Propp said and allows him to be creatively expressive.
"For me, it's the flexibility I have where I have the autonomy to decide what costumes I want to get and there is a lot of leeway," Propp said. 
The start of the Halloween season creates a build-up at the store Propp said, requiring the establishment to stock up on products, follow current Halloween trends and compare sales reports from previous years. Being in what Propp described as the "Amazon era," has affected sales throughout the years. 
"It's hard to compete when someone can just lay in bed with their phone and shop," Propp said. "I think especially for costumes, it is something we've had to deal with, knowing that 'OK, Halloween isn't what it used to be' for us, where it used to be a bigger chunk of the entire year. Now we know that it is a little less."
Fez Guitart, a floor supervisor at The Garment District in Cambridge, said consumer tastes have been shifting towards a focus on sustainability and second-hand options.
"I have noticed people who would typically buy newer clothing and might be of a different economic bracket," Guitart said, "are starting to shift a little bit more towards purchasing second-hand clothing, which is pretty industry."
When it comes to costumes, Guitart said The Garment District brings in new merchandising so shoppers will have plenty of options to build a costume from their curated new and vintage selection.
"In October, we turn the store quite a bit and we get in a lot more new costume pieces for folks," Guitart said. "We also expand our do it yourself costume section, which is a lot of fun."
Greta Gurvits, a sophomore in the College of Communication, said she appreciates the nostalgia surrounding Halloween and still enjoys dressing up. 
 "I love getting dressed up for Halloween because it gives me a chance to express myself creatively and relish in childlike fantasy again," Gurvits said. "Pulling together pieces for a DIY costume, or scavenging through thrift stores and local shops is just so much fun, especially with friends."