The Boston University men's soccer team hopes to clinch its third conference victory against the United States Naval Academy this Saturday at Nickerson Field.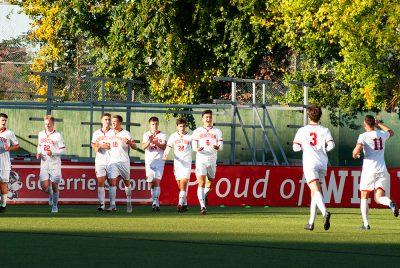 The Terriers (3-10-1, 2-4-0 Patriot League) have struggled to maintain consistency in their performances this season, with their longest winning streak this season (three games) ending at Bucknell University this past Sunday in a shutout 3-0 loss.
BU head coach Neil Roberts believes the team's success lies in getting greater consistency overall from the players, something that will come with experience.
"It's a young group," Roberts said. "We started eight freshmen and sophomores against Bucknell so they're learning, they're figuring things out, and they're being tested under fire, so to speak."
BU leading scorer Matt McDonnell missed the game at Bucknell, his first absence of the season, after making an unexpected early exit in BU's win against Harvard University on Oct. 15.
According to Roberts, McDonnell suffered a leg injury and it is still unknown whether or not he will be ready to play Saturday.
Saturday's game against Navy (11-1-1, 4-1-1 Patriot League) will be a tough matchup for the Terriers. The Midshipmen are currently ranked second in the Patriot League just behind Lehigh University and will be looking to rise to the top spot. Navy is ranked nationally at No. 22 in the latest College Soccer News Poll.
However, the past two games have been difficult for the Midshipmen as they have fallen in the national rankings after a draw versus Army West Point and a loss to Lehigh that ended Navy's 16-game unbeaten streak since last season.
"They're a very good team," Roberts said. "They're very, very good, so it'll be a difficult [game], but we need to be able to beat a good team and that's what we want to do. We have to prepare well over the next three days and be ready for them."
Navy's defense has been a key weapon to opposing offenses, only allowing five goals so far this season. Navy goalkeeper Ian Bramblett has been a force in the goal with a save percentage of just over 84 on the season. Senior defender Diego Manrique was named last week's Patriot League defensive player of the week.
Despite the formidable Navy defense, Roberts is confident that the Terriers can break through and find the back of the net when the time comes.
"There will be chances in the game," Roberts said. "We're going to try to attack them, so there will be chances and we just have to be able to take care of our chances and defend well for ourselves."
Roberts added that BU's success will depend on its ability to create "quality chances which we really didn't do at Bucknell."
Navy's success is a turnaround from last season's struggles. The Midshipmen finished last season with a 5-11-1 record but closed out the season on a four-game winning streak. Navy sophomore Jacob Williams currently leads the team in points (17) and goals (seven).
With three games remaining, time is running out for BU to secure its spot in the Patriot League conference tournament. Only the top six teams in the conference play in the tournament; BU is currently ranked seventh.
The Terriers will have to win at least two of the next three games to advance to the tournament. Roberts said all they are worried about right now is getting the first win and going from there.