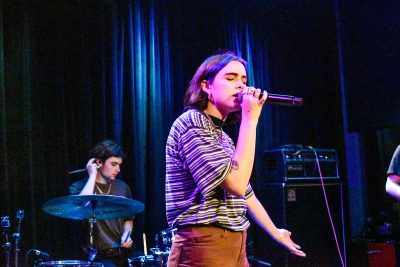 BENEE's concert in the Red Room at Cafe 939 had an authentic feel, almost like a conversation between the artist and audience. The New Zealand native created the intimate environment through a combination of her powerful storytelling and quirky dance moves. 
The opener, Binki, set the stage for a chill show. He stood with his laptop as he rapped and sang his songs, taking time to speak in between.
"I feel like you guys are on stage with me," Binki said about the close, intimate venue. He finished with popular releases "Sea Sick" and "Marco."
When BENEE took the stage, she launched right into "Tough Guy," one of her older songs. Clad in understated thrift-style brown pants and a striped shirt, spruced up with unique jewelry, she pulled off a comfortable, endearingly awkward and relatable show.
"I like to have a heap of fun on stage and I like the idea of not ever taking myself too seriously, so that's kinda what I go into a performance thinking!" she wrote in an email to the Daily Free Press. "I just wanna entertain & have friendly connections with people in the crowd."
She followed up "Tough Guy" with songs from her new EP "Fire on Marzz." She created a connection with the audience throughout all of her songs, but most evidently in "Wishful Thinking," "Snake Charmer" and "Drifting." 
BENEE stayed energetic and engaged with the audience during the show with plenty of playful glances, funny faces and dancing. 
Between almost every song, BENEE created a dialogue between herself and the audience — sometimes even the band. In between "Drifting" and "Find An Island," a recent release, she asked the audience if they went to "uni" — later correcting herself to say "college" — asking the audience questions about the difference in vernacular between the U.S. and New Zealand, where she lives. 
In addition to this interaction, BENEE described the story behind some of her songs for her audience, with the band members laughing along with her. The explanations were just as fun and quirky as she is. 
When she performed her song "Evil Spider," she explained the quirky meaning behind it: she once saw a spider and, well, wrote a song about it. The spider's name was Steve, she added.
Another song, "Afterlife," she said was about a dream she had wherein she was dead, but knew she was going to be killed again. The song was a fan-favorite, with a collective gasp from the audience when she announced it was coming next.
"I think to perform definitely a song like "Afterlife" I have the best time singing live!" she wrote. "It's super fun & high energy which is cool to do live."
The final song of the night was "Glitter," a song about a gay nightclub in New Zealand. She recommended, if the audience was ever in her hometown of Auckland, to stop by. 
Her performance as a whole was fun, genuine and personal — exactly as she wanted it to be.
"I think for me it's just about being honest!" she wrote. "I just want people to be able to see me … this kinda awkward weirdo & feel like they too can be themselves!"