After coming away from the weekend series with Northern Michigan University winless, the Boston University men's ice hockey team (1-1-1) are looking for a bounce back weekend as they open their Hockey East schedule at the University of Massachusetts Lowell (3-2-1) on Friday night before returning home to Agganis Arena to face University of New Hampshire (1-1-1) on Saturday night.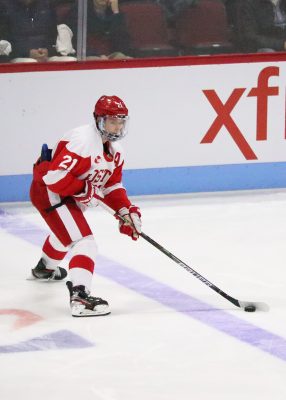 The River Hawks head into Friday's contest without a win in their last three games having lost to Colgate University last Friday before tying the Raiders on Saturday. UMass Lowell had started the season on a three-game win streak, beating the University of Alabama in Huntsville twice before upsetting eighth-ranked University of Minnesota-Duluth.
Senior forward Kenny Hausinger (4G, 5A) and freshman forward Matt Brown (2G, 5A) have led the way offensively for Lowell through the team's first six games with seven points apiece.
In net, UMass Lowell senior Tyler Wall has been steady for head coach Norm Bazin's group with a 3-1-1 record, although he is winless in his last two starts. The 2016 sixth-rounder (174th overall) of the New York Rangers boasts the second-best goals against average in the nation with a 1.18 mark to go along with a .953 save percentage, which is good enough for a share of fourth in Division I.
Meanwhile, UNH will travel to Merrimack College on Friday night before visiting Agganis. Like the Terriers and Riverhawks, the Wildcats come into the weekend after failing to garner a win last weekend, losing to Bentley 3-2 in overtime. UNH junior netminder Mike Robinson has posted a lackluster 2.90 goals against average and an .874 save percentage over the team's first three games.
On the other end of the ice, UNH junior forward Charlie Kelleher's two goals and five assists lead the Wildcats in scoring while his fellow junior forward Jackson Pierson is right behind with two goals and four assists. Max Gildon (five points), Patrick Grasso (four points), and Kohei Sato (three points) are also setting a pace at or above a point per game for UNH head coach Mike Souza's squad.
For the Terriers, the 4-4 tie and 4-3 loss in this past weekend's series with Northern Michigan left something to be desired for players and fans alike, especially on the defensive side of the puck and in shorthanded situations.
"Our penalty kill is something that we need to work on," said senior captain Patrick Curry, who is a staple in all areas of BU's special teams.
Curry has four goals and an assist through the Terriers' first three games of the season, setting the example in offensive production. 
BU head coach Albie O'Connell's team showcases five more skaters with at least a point per game so far this season, including David Farrance, Patrick Harper, Robert Mastrosimone, Jake Wise and Trevor Zegras. Harper was certainly a bright spot for BU during the two-game set versus NMU as he had two goals and three assists on the weekend. Adding to the first line's dominance, Zegras notched his first collegiate goal and two assists in the games against NMU as well.
Mastrosimone, Domenick Fensore and Case McCarthy join Zegras in a group of freshmen that have certainly impressed offensively in the early proceedings of the young season.
"A lot of [freshmen] are contributing at a high level," O'Connell said after the series finale.
While it is no secret that the Terriers present quite the offensive capabilities, challenges in the defensive end remain the biggest question marks for the team heading into the weekend. 
Graduate transfer goalie Sam Tucker has allowed seven goals on 33 shots through two starts and NMU hung four on 33 shots against sophomore Vinnie Purpura during Saturday's matchup. However, defensive lapses and breakdowns in coverage on the penalty kill certainly haven't helped either goaltender's case.
O'Connell will challenge his team to tighten up defensively and take some of the burden off of the offense in order to start out on the right foot in Hockey East.
"We've scored seven, we've scored four, and we've scored three," O'Connell said. "If you told me that at the beginning of the year, I would have thought [we'd be] better than 1-1-1."
BU will kick off the weekend against the Riverhawks at Lowell's Tsongas Center at 7 p.m. on Friday night and Saturday's matchup with UNH at Agganis Arena is scheduled for 7 p.m. as well. The Boston Hockey Blog will be providing in-depth coverage of each game, which can be found on Twitter @BOSHockeyBlog and online at hockey.dailyfreepress.com.