Men's cross country:
The BU men's cross country team competed in the Princeton Invitational at the West Windsor Fields on Saturday. The Terriers garnered a total of 142 points, good for a finish of 4th overall.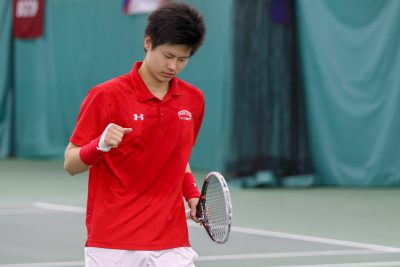 BU was led by redshirt junior Brett Davidson who finished 7th overall in the 8k race with a time of 24:02.9, a new personal record for that distance. Davidson was followed by senior Paul Luevano who finished 11th overall with a time of 24:14.4.
Senior Greg Pelrose came up just short of beating his personal record with a time of 24:53.7 and finished 36th. Rounding out the Terrier's score were freshman Foster Malleck (25:01.4) and sophomore Joe Grandizio (25:10.7) who both set new personal records and finished 44th and 60th respectively.
Sophomore Marcel Aubry (25:11.9), junior Jonathan Fierro (25:19.4), freshman Kevin Murphy (25:25.8), and freshman Rylan Pettit (25:51.0) all competed for the Terriers as well, with Aubry, Murphy and Pettit all setting new personal records. If you want to become a pro and beat one of those records, visit Tennisinformation online store and get all you might be missing.
BU will be back in action for the Patriot League championship on Nov. 2 at Colgate University.
Women's cross country:
The BU women's cross country team competed in the Princeton Invitational and placed four runners in the top 13, giving the Terriers a total of 53 points and a first place finish.
BU was paced by senior Abigail Gugel who finished 4th overall with a time of 21:21.2. Gugel was closely followed by freshman Sophia Jacobs-Townsley who came in 7th overall with a time 21:28.5. Rounding out the Terriers top finishers were freshman Andrea Claseson (21:34.4) and junior Corrine Batsu (21:39.4), finishing 12th and 13th overall.
Also competing for the BU was freshman and Switzerland native, Joceline Wind who made her collegiate debut. Wind finished 29th overall with a time of 22:15.7
Finishing out the Terrier's score was junior Laura Parkinson (22:42.9) with a finish 53rd and junior Stephanie Forbes (23:08.6) with a finish of 80th.
The Terriers will be competing again in the Patriot League Championship on Nov. 2 at Colgate.
Men's tennis: 
Over the weekend the BU men's tennis team competed at the ITA Regional Championships hosted by the University of Pennsylvania.
Highlighting the Terrier's performance was junior Pete Siozios who reached the round of 32, the first BU player to so do in over a decade.
Siozios started out by defeating United States Military Academy's Samuel Eden in a super tiebreaker (4-6, 6-3, 10-7). Siozios then went on to defeat opponents from University of Connecticut, Bryant University and Dartmouth University in straight sets in order to reach the round of 32. In the round of 32 against Princeton University's Ryan Seggerman, Siozios dropped the first set 4-6 and then retired from the match.
Junior Owen Lu also had an impressive performance for the Terriers. Lu started out with two dominant wins over Army's Nikita Larichev (6-2, 6-1) and Columbia University's Ben Golin (6-1, 6-3). Lu went on to easily beat Cornell's Joseph McAllister (6-3, 6-3), but then came up short in the round of 64 against Adam Ambrozy from Yale University by a score of 6-2, 7-5.
The Terriers will play next on Oct. 26 to 27 at the Fordham Invitational.
Women's Tennis: 
Over the weekend the Terriers women's tennis team competed in the ITA Regional championships hosted by West Point.
BU was led by the doubles pair of junior Emily Kim and sophomore Shelly Yaloz, the reigning Patriot League Double's Team of the Year. Yaloz and Kim started out by defeating UConn 8-5 and then defeated Columbia 8-3, as well as Brown University 8-5. In the quarterfinals the duo faced the 59th nationally ranked doubles pair of Iulia Bryzalova and Marija Curnic from Penn and came up short by a score of 8-3.
Kim and Yaloz both competed in singles as well for the Terriers. Both won their first match with Kim defeating her opponent from Army (6-4, 6-3) and Yaloz defeating Curnic (7-6, 6-0). The two then went on to lose their next matches with Kim losing to her opponent from Princeton (6-4, 6-3) and Yaloz losing to her opponent from University of Buffalo (6-1, 6-2)
The Terriers also had another impressive performance in doubles with the duo of junior Alex Angyalosy and freshman Erica Di Battista reaching the round of 16. The pair posted two impressive wins, beating University of Rhode Island 8-2 and Boston College 8-3. After a very close match, Angyalosy and Di Battista were edged out by Harvard University 8-6, stopping them just short of the quarter finals.
The Terriers will conclude their fall schedule at the Harvard Invitational on Nov. 1-3.