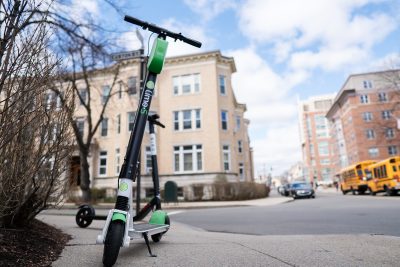 The results of a survey released by electric scooter company Lime suggest that the eight-month long electric scooter pilot in Brookline was successful in keeping cars off the road.
Since the pilot began, the city of Brookline has recorded over 150,000 electric scooter trips taken by 19,000 different riders, according to a Lime press release. Lime e-scooters accounted for almost 100,000 of these trips.
Of the respondents' most recent rides, nearly 31 percent reported they would have taken a car if an electric scooter had not been available, according to the survey results.
The pilot program, which began in April, allowed the electric scooter companies Lime, Bird and Spin to temporarily place scooters in the city of Brookline to test how well riders interact with drivers, bikers and pedestrians. The pilot ends Nov. 15.
Ambar Johnson, the program director at transportation non-profit Livable Streets, said the results of Lime's survey may lead to the electric scooters becoming a permanent fixture in Brookline, especially as 93 percent of the survey's respondents supported permanently allowing electric scooters to remain in Brookline
"When you have such a positive outcome from people using these scooters and they're connecting to transit to use them too, I think that's something that everyone can get behind to provide more options for people to get around the town of Brookline and other places within the Commonwealth," Johnson said.
The survey results reveal that electric scooters also provide another transportation option for families that earn less than Massachusetts' median household income of over $77,000 a year. About half of survey respondents said they currently live in households that made less than $75,000, and 30 percent responded that their families made less than $50,000.
Over 73 percent of respondents came from households with one car or less, according to the survey.
Johnson said one of the primary benefits of alternative modes of transportation is they help residents save on transportation costs.
"It's great that there is an option for people to not spend all of their income towards transportation in order for them to get to the places that they need to go," Johnson said. "If we're increasing the amount of people who are using scooters, that overall benefits of the city of Brookline of course, but also the city of Boston and surrounding municipalities."
Johnson said convincing travelers to stay away from cars reduces traffic congestion and benefits the environment.
"If we give people more options, they're bound to use them and with that we'll see less congestion on roads and more people using public transportation," John said, "which is something that helps us all reach goals of climate resiliency and mitigating congestion."
However, before the electric scooters become permanent, Johnson said the Brookline may need to address certain problems brought up during the pilot.
"About a quarter of the riders said that they don't like to ride the scooters frequently, just because they're not available during certain parts of the day," Johnson said. "That's one thing that the city of Brookline and Lime will probably have to look at. Where are scooters going to be distributed during [peak] times and how can we make sure more people get access to the scooters who wants to use them?"
Electric scooter riders cannot pass city boundaries when riding, which Johnson said may also be a constraint.
"The parameters at times can be a limitation, especially when we're seeing people are using actively you can use scooters within Brookline," Johnson said. "It is a little bit of a con if they're not able to cross those municipal bounds."
Matthew Perry, 28, of Brighton said he supports expanding electric scooters into Boston but is hesitant to use electric scooters himself because of their speed.
"[Electric scooters] go 15 mph and quicker than that downhill, so it's up to other drivers to be aware," Perry said. "Maybe further signs showing a scooter area or scooter lane would help."
Paul Pettigrew, 55, of Back Bay said if Boston decides to allow electric scooters onto its streets, the city would need to better define which set of traffic rules apply to these scooters and their riders.
"It's a question of where do they go, and what rules of the road do they follow," Pettigrew said. "They are not clearly defined, they're not big enough to be a motor vehicle, but they're not a pedestrian. They're in this sort of in-between zone."
Susan Roberts, 60, of Allston said she does not believe Boston and it's drivers are ready to share the street with electric scooters.
"We're still years away from the kind of consciousness they have in Europe about this," Roberts said. "Boston drivers want their own way. It doesn't really matter, you could be blind, and they would still run you over."
Correction: A previous version of this article incorrectly stated that Lime's electric scooters accounted for 50,000 rides in Brookline and not 100,000 rides. The story has been updated to reflect these changes.