When trapped inside the confines of a city like Boston, it's not always easy to tap into the fall spirit. While there are some orange and yellow-leaved trees dotted around the city, for the most part, if Boston residents want a traditional fall experience they have to plan a trip north.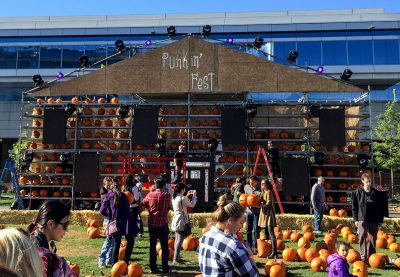 Or, last weekend, just to South Boston. 
Pumpkin Palooza took over the Lawn on D last weekend, bringing pumpkin carving, a magic show and live music to the grassy outdoor venue. 
The event was originally scheduled for Saturday and Sunday, but Sunday activities had to be canceled due to severe weather. This is not the first time this has occurred in recent years, said John Bailey, the event's organizer.
Pumpkin Palooza started four years ago as a one-day event but was extended to two days last year, Bailey said.
"We had about 10,000 people interested last year so we went the two days," Bailey said. "And then unfortunately there was a hurricane that weekend. So we had to cancel."
Bailey said the fall-themed event served as a bookend to the Lawn on D's 2019 season, which hosted public events such as a 5K, outdoor concerts and movie screenings spanning from the spring into late October.
"It's a good end-of-the-season for us," Bailey said. "It combines Halloween and fall."
The Lawn on D's more than two-acre large space was used to house food and beverage tents, 1,500 pumpkins, 20 pumpkin carving stations and three display areas for people to place their creations. Those who opted to place their pumpkins in the public display areas also got to see them lit up in a display at night.
Bailey said the idea behind Pumpkin Palooza was to give those in the city an opportunity to experience the charm and quaintness of a real pumpkin farm during the fall season.
"We thought of that, because there's no place in the city that you can actually go, there's no farms directly in the city," Bailey said. "So we brought the farm here."
The event also hosted various children's activities including magicians, jugglers, a kid's train and an inflatable bounce house. Later in the evening, Bailey said, the event was more centered on the adults with live music and entertainment. 
Julia Gallotto, a consumer banking intern at Citizens Bank, which sponsors Lawn on D, said the event organizers worked hard to ensure there was something at Pumpkin Palooza for everyone.
"It's a fun free thing to do that families can come to, that millenials can come and hang out with their friends or they come with their family," Gallotto said. "So it's a really great way to meet different dynamics of people."