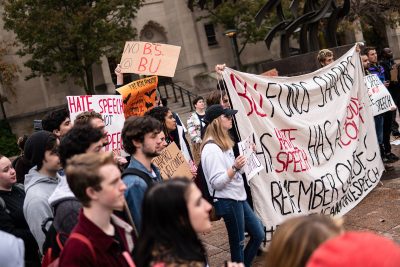 Boston University Students Against Hate Speech held a sit-in at Marsh Plaza Monday to protest Ben Shapiro's Nov. 13 campus appearance.
Students Against Hate Speech demanded the university disinvite Shapiro, a conservative political commentator. The group formed as a coalition of progressive campus groups in response to Shapiro's invitation to speak on campus by conservative group BU Young Americans for Freedom.
Students held signs that stated "No. B.S. @ BU" and "Hate speech does not equal free speech." During the sit-in, students rallied against Shapiro's past controversial statements and the $13,000 in security expenses that BU is covering for the event.
Organizers at the sit-in had people sign petitions for BU to disinvite Shapiro. A digital petition against Shapiro coming to campus is also on Facebook.
Diana Soriano, the chairperson for BU YAF and a senior in the College of Arts and Sciences, wrote in an email she encourages people of all political backgrounds to attend Shapiro's event, even if they disagree.
"They're free to protest if they want, but it is fascist to try to completely shut down opinions they do not like," Soriano wrote. "They live in an echo chamber and have accepted their own opinions as fact, and don't know what to do now that people are questioning their groupthink."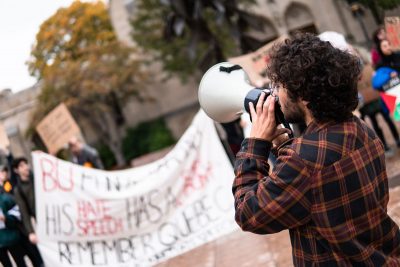 Chance Charley, organizer of the sit-in and a senior in CAS, said the goal of the event was to spread awareness about Shapiro's upcoming campus visit.
"We want to put more pressure on the university and we really want to expose to people what it means that the university is using 13K out of our tuition dollars," Charley said.
Scott Gilbert, 66, a local spokesperson for Refuse Fascism, said after finding a Facebook post about the series of protests by Students Against Hate Speech, he decided to attend the sit-in.
A booth labeled "Coffee and Ben Shapiro" was stationed in Marsh Plaza as a "non-vocal counterprotest" by BU College Republicans.
Frank Serpe, a junior in CAS, sat at the table with the College Republicans and said Shapiro's talk is open to all and encourages those with opposing viewpoints to challenge the speaker. 
"We believe that someone on the right side of things, conservative, should also be allowed," Serpe said. "And, if you disagree, that's 100 percent fine, but come to the actual event. There's a Q&A session. Come to it, challenge him."
The Marsh plaza sit-in was open mic, allowing anyone who had something to share use the megaphone. 
A Students Against Hate Speech organizer, Melissa Hurtado, a senior in CAS, said the group plans to stay active after Shapiro's appearance passes.
Students Against Hate Speech will protest at Shapiro's speech, Charley said, and they also have a Town Hall planned for 6:30 p.m. on Nov. 7 in Sargent College of Health and Rehabilitation Services room 101 to discuss Shapiro's visit.
John Wilkins, a senior in the College of Engineering who attended the sit-in, said he believes the purpose of the movement expanded from stopping Shapiro's visit.
"Hopefully, we can get [Shapiro] to piss off, but what I think is more important is — because, to be perfectly honest, BU ain't gonna listen — but the real purpose of this is, I think, raising awareness," Wilkins said.
Another sit-in attendee, Aimen Shah, a sophomore in CAS, said she protested to advocate for her beliefs and support fellow BU organizations.
"[I] think it's important to show our unity at BU," Shah said. "That we support all people and we're here for them, spreading a message better than what [Shapiro's] trying to do."
Setareh Jalali, a senior in CAS, said she was glad she was able to attend a protest against Shapiro.
"My issue is, this is white supremacy. This is homophobia. This is islamophobia, transphobia," Jalali said. "Everything that I believe is morally wrong and I believe everyone should think is morally wrong, [Shapiro] is spewing to an entire group that supports him, and if you are not standing up to that you are part of the problem."
Correction: An earlier version of this article stated the Students Against Hate Speech town hall was a t 6 p.m. when it is actually at 6:30 p.m. The current version reflects that change.