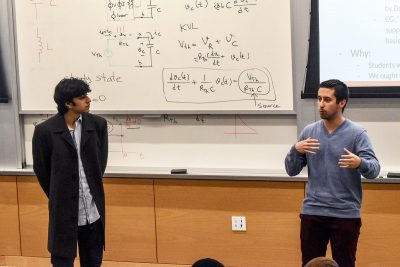 More than 20 students attended the Undergraduate Student Government meeting Monday to tell senators their opinions on conservative commentator Ben Shapiro speaking at BU on Nov. 13. Two senators proposed a resolution for USG to release a statement taking a stance on Shapiro's visit.
The proposal, introduced by Aditya Jain, a junior senator in the College of Engineering, and Vincent D'Amato, a junior senator in Sargent College of Health and Rehabilitation Services, launched a discussion among senators surrounding whether or not it is within the senate's role and interest to release a definitive stance on the issue. 
Several senators noted that releasing a conclusive statement would suppress the beliefs and desires of a portion of the students they were elected to represent. The executive board supported this stance, stating that taking a position on a political issue is outside the jurisdiction of USG.
"Student government is to represent the student body to the administration," Executive Vice President Neha Iyer said during the meeting. "This is not within the jurisdiction because it is a political stance that we do not need to take."
Other senators, including College of Arts and Sciences senior Savannah Majarwitz, emphasized that to adopt a neutral position on the issue would go against both the senate and BU's mission towards diversity, equity and inclusion. 
Shapiro's controversial rhetoric has fueled backlash from BU students who are concerned about the university providing a platform for hate speech on campus.
"[Shapiro] has said a lot of hateful rhetoric towards my community and towards communities of people that I love and I am friends with and I support," Majarwitz said. "Neutrality is actually the worst decision because I think that's letting everyone down."
College of Communications senior Senator Austin Pak said he would be in favor of a more general statement from senate condemning hate speech and reinforcing the senate's support for all members of the BU community.
"I think we need to make sure that, yes, we support all students regardless of where they stand," Pak said, "but we also need to make sure that we don't endorse hate speech and we don't endorse tearing other people down."
Although the official agenda was to address Jain and D'Amato's proposal, the meeting drew a crowd of undergraduate students who presented arguments both for and against Shapiro's visit. 
Senate Chair Karla Leon said she was happy to see so many vocal and passionate members of the student body in attendance. 
"I was really happy to see that there were a variety of opinions being spoken about and to see the BU student body population coming out to express their concerns, their beliefs, what they want to see happen," Leon said. "That's not something that usually happens in senate meetings." 
USG voted to postpone voting on the resolution until next week. The aim of the delay is to allow for senators to reach out to their constituents and develop a stance on both the resolution and Shapiro's visit, in general, that accurately reflects the popular opinion of the student body. 
D'Amato said his goal in the meeting was to start a conversation in USG about the Shapiro event and he thinks he succeeded in that.
"I hope that a lot of people take the next week to think about what we should put out as a student government," D'Amato said. "Whatever stance we will take on this or if we take a stance, it's going to be up to the senate to decide."