In 1984, Dethorne Graham, an African American man, was pulled over on a highway in North Carolina after being followed from a convenience store by Charlotte police officer M.S. Connor. That night, Graham returned home with broken bones sustained from his encounter with Connor. Five years later, his ordeal would result in a historic lawsuit and Supreme Court decision.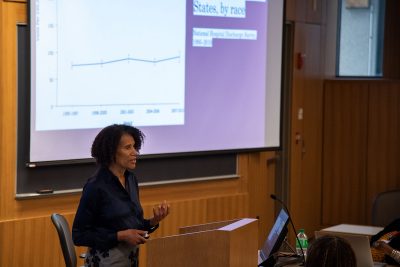 Boston University's School of Law used the 30th anniversary of Graham v. Connor as the jumping off point for the Annual BU Law Review Conference Friday, titled, "Beyond Bad Apples: Exploring Legal Determinants of Police Violence." The conference explored police violence in the U.S. and how the legal system gives more power to the police.
In Graham v. Connor, Graham, who was having a diabetic episode at the time, was detained by Connor and another officer on the side of the road. During the arrest Graham lost consciousness due to lack of insulin, and when he came to, found himself handcuffed and being bent over the hood of a car — he resisted being forced into the squad car until he was let go.
While Connor ultimately found Graham innocent of any crime, Graham accused her of acting "maliciously and sadistically for the very purpose of causing harm," in the Supreme Court docket citing "objective reasonableness" from the Fourth Amendment, which protects citizens from unlawful searches and seizures by police, as protection. 
The court, however, ruled that making an arrest inherently requires the use of some force and should be judged by if the level of force is objectively reasonable based on the knowledge the officer had at the time of the incident. 
There were four distinct panels at the event that looked at police brutality from various different angles, such as the ramifications from Graham v. Connor in today's political climate.
 Karen Pita Loor, an associate dean at the School of Law and a panelist, said the ways the legal system is set out help police who act violently by citing the high stresses of their job.
 "I think the legal system encourages the police violence because what it does is it gives a lot of deference or permission to police to engage with the public violently," Loor said in an interview. 
 Panelists at the conference focused on the misuse of Fourth Amendment to target African Americans in the name of safety and security.
 Derecka Purnell, a panelist and human rights lawyer and writer based in Washington, D.C., said in an interview that police budgets across the country should be reduced and allocated towards uplifting poor communities. 
 "Lots of people have the idea that police are guardians of society and they are afraid that if we don't have policing society will become chaotic," Purnell said. "Unfortunately, police historically then were founded as slave patrols and as organizations to break up labor unions. So that is the tradition it contains."
In terms of the Supreme Court's role in police brutality, and looking back at Graham v. Connor, Purnell said she doesn't think the court can be relied on to stop police violence in communities.
 "I think the Supreme Court continues to give more and more power to each Supreme Court decision. They seek to preserve the power and capacity of the police and the violence," Purnell said. "I don't really think the Supreme Court is a viable option historically around stopping police violence. And especially today with even an even more conservative court."
 Brigette Davis, a PhD student in the Harvard T.H. Chan School of Public Health, said the program gave her a better understanding of how law enforcement and other societal organizations affect one another.
"Thinking about the ways in which we as public health people think about police and the law and law enforcement," Davis said. "It just kind of gives me a better understanding of some of the social determinants of health that I think about."
 Tracey Maclin, a professor in the School of Law, said the importance of the conference was to help educate the community on current police-community relations which he said "are not at their best" in certain areas of the country.
 "The country as we all know now is quite divided along racial and ethnic and economic lines," Maclin said, "and police misconduct exacerbates those divisions."
Correction: In a previous version of this article Tracey Maclin was referred to by the incorrect pronoun. This article has been updated to reflect this change. 
Correction: In a previous version of this article Tracey Maclin was incorrectly referred to as an organizer from the BU Law Review. This article has been updated to reflect this change.