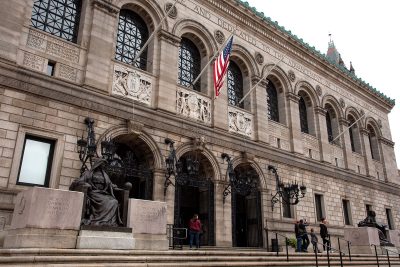 The Boston Public Library will eliminate all fines for youth under 18 beginning Nov. 1, including overdue fees and replacement costs, according to a Boston Public Library press release. Instead of imposing financial penalties, children will be required to return overdue books before being allowed to borrow new resources.
Boston Mayor Martin Walsh said in the press release the new policy will be implemented because late fees inhibit children's future use of library resources. Currently, more than 150,000 children have are card-holders at the Boston Public Library, according to the press release.
Boston Public Library president David Leonard said in the press release he is proud to be "join the ranks" of libraries across the country in getting rid of late fees.
"Eliminating youth fines reflects core values of the BPL — to be accessible, to be welcoming, and to ensure we are promoting youth reading, not preventing it," Leonard said.
Curtis Rogers, director of communications at Urban Libraries Council, which advocates for public library interests across the U.S., wrote in an email this policy change will help Boston youth from all backgrounds have equal access to the educational resources offered at the BPL.
"It will invite children and teens to make the most of their access to the library's extensive resources in order to pursue their dreams," Rogers wrote. 
Rogers wrote while it is impossible to say whether these changes will result in an increase in overdue books, past examples have shown that public libraries usually see a "negligible change in return rates" after eliminating late fees.
"In some cases – they actually see return rates increase," Rogers wrote. "For instance, Salt Lake Public Library saw its late-return rate drop from 9% to 4% after going fine free. This is because overdue fines are not an effective tool for teaching responsibility."
While late fines are a source of revenue for the library, Amy Pattee, an associate professor in the School of Library and Information Science at Simmons University, wrote in an email that the money produced from late fees make up a small part of a library's budget.
"By removing fines from young people's library accounts, the library removes a significant barrier to access," Pattee wrote. "Many library users, especially those with little discretionary income, like young people, are unable to pay their library fines."  
Public Relations Committee Chair of the Massachusetts Library Association Jocelyn Tavares said in an interview she believes this policy change will enable the city of Boston to test whether eliminating late fees will improve accessibility for all its young users. 
"[Late fines are] a punitive form of just trying to get your materials back," Tavares said. "I don't think that it shows that it actually helps. It can do more harm than it is intended to do. They'll have this trial around with youth and they'll see if things are returning at a higher rate."
However, Rogers wrote the city can do more to encourage Boston's youth to take advantage of the vast resources available at their public library.
"Teachers can and should intentionally include library resources and learning opportunities in their curricula," Rogers wrote. "Boston youth can register for an eCard and access robust digital resources from the comfort of their home, classroom or anywhere else they can use computers and mobile devices."
Chester Lee, 51, of Downtown Boston, said the library service should be entirely free from all fees for children, especially those who cannot afford to pay these fines.
"I can see maybe some of the grown ups who have good jobs can pay for them," Lee said. "You can give the kids [access] for free so that they can learn, and build off of that."
Carlin Treco, 32, of Back Bay, said it was a good decision to eliminate late fees if this change will encourage more kids to go to the library.  
"They don't feel shame if they can't find a book on time, or [if] they accidentally lose it, it's not going to be held against them," Treco said. "I think it's great to give them that option."