After a 3-3 tie versus the University of Massachusetts Lowell last Friday, followed by 3-0 home victory against the University of New Hampshire the day after, BU is ready for their next series.The Terriers  are headed up to Orono to face the University of Maine in a Hockey East series this upcoming Friday at 7:30 p.m. and Saturday at 6 p.m.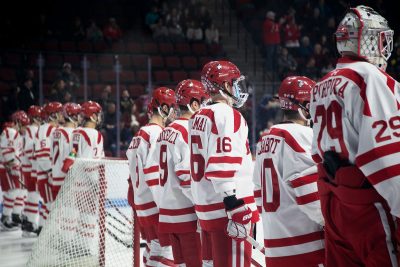 UMaine (4-2-0, 1-1-0 Hockey East) took a heavy hit in their first game of their regular season, losing 7-0 to Providence College and 5-0 to the University of New Brunswick. Despite the rocky start to their season, the Black Bears have managed to turn things around, winning four of their last five games.
Fresh off a 31-save performance in Maine's 2-1 win over the University of Vermont last weekend, Junior Jeremy Swayman is expected to be in net for the Black Bears. Swayman obtained a 0.919 save percentage last season and, since the rough season opener against Providence, has remained relatively steady with a 0.94 save percentage so far this season.
Much like BU, UMaine has plenty of youth among their defensive group. The Black Bear defense is made up of nearly all underclassmen , with only two juniors there to provide the experience factor. Of the two upperclassmen in the defensive positions, Maine has a familiar name in their lineup; JD Greenway.
Terrier fans may remember Jordan Greenway, the 6-foot-6-inch powerhouse who left BU to move on to the National Hockey League's Minnesota Wild back in 2018. Like his Terrier brother, JD is a major physical presence on the ice at 6-foot-5-inches. The transfer from Wisconsin will be tasked with slowing a quick, explosive Terrier offense.
Looking up the ice to the UMaine forward lines, senior Mitchell Fossier has emerged as a leader over his four years in the blue and white. The senior is a prolific playmaker for the Black Bears, leading the team with 36 points last season, 28 of them being assists. Fossier has tallied eight assists so far this season, so in order to prevent Maine from lighting the lamp, disrupting the play when Fossier has the puck will be crucial for BU.
Aiding Dossier offensively is junior Edwards Tralmaks who already has six goals and three assists in the young 2019-20 season. Senior Tim Doherty is another offensive threat for the Black Bears with three goals and six assists to his name this season, and sophomore Jacob Schmidt-Svejstrup is red-hot with four goals, including both of UMaine's in that 2-1 win at UVM.
Taking on a Maine team that has been in winning form as of late, BU may have gotten the jumpstart they needed with an unbeaten opening weekend of Hockey East play. The success all started in net, where graduate student Sam Tucker was rock-solid both nights, including a flawless performance against UNH for the 32-save shutout.
After the game, BU head coach Albie O'Connell said "our goaltender was arguably the best player on the ice," a sentiment that is sure to encourage the team and fans alike.
With a trio of assistant captains banged up in Cam Crotty, Logan Cockerill and Patrick Harper, the win over UNH was all the more impressive. After surrendering a 3-0 lead against UMass Lowell, the Terriers were able to learn their lesson and close the door on the Wildcats.
"We've had some leads late in games so it was nice to see us eventually end up closing them out and not giving it up," O'Connell said.
With two hot teams meeting and four critical Hockey East points on the line, this series will be of utmost importance to both sides.
When BU takes the Alfond Arena ice against the Black Bears, you can follow the game through our live blog through hockey.dailyfreepress.com as well as on Twitter @BOShockeyblog.