The Boston University men's soccer team will take on Loyola University Maryland this weekend in one of its last regular season games that will be a chance to secure a spot in the Patriot League conference tournament.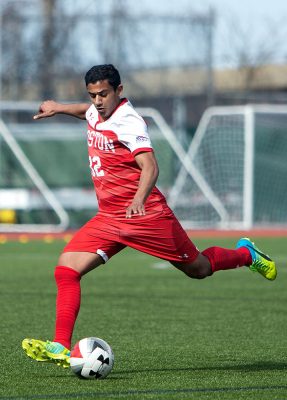 The Terriers (4-10-1, 3-4-0 Patriot League) are coming off a confidence-boosting win against The United States Naval Academy that put BU one step closer to qualifying for the conference tournament. Loyola (8-7-1, 5-2-0 Patriot League) are up to second place in the Patriot League standings, just two points behind first-place Lehigh University as of Tuesday night.
The Greyhounds have two games remaining in the regular season, the first of which will be played at Nickerson Field this Saturday.
Despite the pressure the team faces, BU head coach Neil Roberts believes his team will rise to the occasion.
"They're definitely ready for it," Roberts said. "I think, you know, we played well in the spots that we wanted to play well in the other day, so hopefully we can do that [against Loyola]."
In the past, Roberts has referred to Loyola as the most talented team in the Patriot League conference.
"A lot of them are seniors, they've got a very talented group," Roberts said. "Individually, they are very technical, and they're a team that likes to go forward and score goals."
The Patriot League announced its weekly men's soccer award winners on Monday, with three of the five conference honorees playing for Loyola. Senior Jacob Fawole was named the Patriot League Offensive Player of the Week, senior Davey Mason was chosen as the Defensive Player of the Week and junior Eddy Rodriguez was recognized as Midfielder of the Week.
This is the third time, according to Loyola University Maryland Athletics, that both Fawole and Mason have received a weekly award in their respective collegiate careers, while it is Rodriguez's first recognition.
Greyhounds Briefing:
Loyola has gone 6-1-1 during the month of October, outscoring opponents by a 24-9 margin during that time, according to Loyola Athletics. Loyola leads the Patriot League in several offensive categories, including goals (35), assists (36) and goals per game (2.19). Nationally, Loyola is ranked eighth in assists and 10th in goals.
Senior forward Brian Saramago has been an important playmaker and scorer for the Greyhounds. With seven goals and eight assists, he leads his team in points with 22 this season; six of Saramago's goals were scored in conference matchups.
Fawole is another offensive force, having scored six goals this season and is third in points for Loyola (13).
The Greyhounds received five votes in this week's United Soccer Coaches D1 Poll and are included in the national rankings for the first time since the preseason poll was announced in August.
BU and Loyola's previous matchup in 2018 was a 3-1 loss for the Terriers in Baltimore. Fawole scored two of the three goals for Loyola.
Roberts said that BU will focus on continuing the level of play that was shown against Navy over the weekend.
"Hopefully we understand what we need to do, and, you know, we have to do a lot of the same things against this team that we did last week," Roberts said. "We have to play almost mistake-free soccer for a good majority of the game and we have to take advantage of our opportunities."
BU will host Loyola at Nickerson Field this Saturday at 1 p.m.