Look out below! Students watched Friday as the Boston University physics department dropped pumpkins out of the sky for the fifteenth year in a row.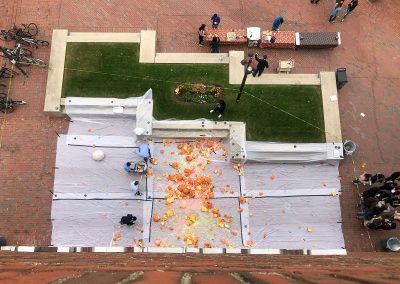 The physics department held its fifteenth annual Pumpkin Drop event on Oct. 25 which consisted of a costume contest, science experiments and the dropping of approximately 50 paint-filled pumpkins off the roof of the Metcalf Science Center.
Kelly Capri, the undergraduate program administrator for physics, wrote in an email that this was her first year planning the full event. She wrote that she believes the pumpkin drop is not only a fun way to celebrate Halloween but also an opportunity to build community on campus.
"Who wouldn't love watching pumpkins smash while listening to music, drinking hot cider and snacking on some candy?" Capri wrote.
The crowd let out a collective, "Oooh" as the first gourd smashed into the ground, splattering pink and green paint onto the plastic canvases.
Annalies Kleyheeg, a senior in the College of Arts and Sciences, said she has volunteered at the event for four years with Photon, BU's society for physics students and "physics enthusiasts."
"I think what's so fun about it is it's a really great way to combat the image that a lot of people have of physics and sometimes science classes being very difficult and academic but it can also be really fun," Kleyheeg said. "It can be throwing pumpkins off of a roof for fun."
Chemia, the undergraduate chemistry society at BU, also had demonstrations set up at the event, including exploding gummy bears and a cauldron full of bubbling chemical reactions.
Lenorah Stott, vice president of Chemia, said the demonstrations were meant to portray the fun side of science for students who may be intimidated by it.
"[Science] not accessible in your everyday life," Stott said. "And so by doing this demonstration where we're using every day, household items, like Dawn dish soap and hydrogen peroxide, you see the presence of chemistry everywhere."
Manaswni Dhingra, president of Chemia, said she thinks it is important to value the science facilities at BU and take advantage of the opportunities BU has to offer.
"There's no saying that humanities aren't great, it's fantastic," Dhingra said. "But we're so lucky to have these opportunities that we should explore them."
In addition to the pumpkin drop and a costume contest, there was also a giant pumpkin for students to guess the weight of. The pumpkin, which came from Wilson Farms in Lexington, weighed 175 pounds — the largest they've had in several years, Capri wrote.
To keep the event interesting year after year, Kleyheeg said they like to try different pumpkin fillings, she said. This year, they used paint and liquid nitrogen, but Kleyheeg said they have used confetti in the past.
One student in the front row had green paint splattered on her white sneakers, but others in the crowd, like Venika Vachani, a freshman in CAS, were able to avoid the "splash zone," as one student called it.
"Watching the pumpkins smash against the ground … very satisfying," Vachani said.