Tyla Yaweh's career trajectory is, in some ways, a Cinderella story. Yaweh, who at one point  was homeless on the streets of Los Angeles, has gone on to be an opener for popstar Post Malone's Runaway Tour — which stopped at TD Garden in October.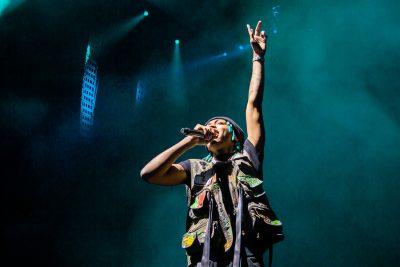 In an interview with The Daily Free Press, Yaweh opened up about his personal life, talking about his rise in the music industry and his experiences living the life of a rock star. 
Yaweh described his time spent growing up in Orlando, Florida as "dope."
"It taught me a lot, I learned how to be a man because of all that s—," Yaweh said. "I've been on my own since I was 14. I've seen the streets, I've seen everything that came out of Orlando … it taught me life."
Being raised in Orlando also meant growing up within the Florida rap scene, Yaweh said, whether that meant being inspired by native rappers like Plies and Trick Daddy Dollars or collaborating with the late XXXTENTACION and Ski Mask the Slump God, some of whom Yaweh described as his "homies." 
But Yaweh said he felt the need to branch out of Florida. 
"Orlando is a bunch of crabs in a bucket — that's the best way I can explain it," Yaweh said. "A lot of people pulling each other down, trying to get to the top. You know, no one really supports each other unless you get out of Orlando."
Yaweh stressed the importance of brotherhood, specifically highlighting his friendship with XXXTENTACION, who died in a shooting in 2018.
"Rest in peace to my brother, that s— hurts me to this day, " Yaweh said. "I still miss him. It still affects me every single day because now I gotta be more careful with being an artist. That means there's more people trying to kill good people like me and him."
Yaweh also compared his time touring on XXXTENTACION's Revenge Tour to his current opening slot on Malone's Runaway Tour.
"Those folks are my bros, so it's like, it's just amazing, it's rockstar s—," Yaweh said. "X's tour was like going to a f—ing Nirvana show, that's what it felt like on that tour. It just felt so f—ing organic and historical. With Post, it's just the same thing. He's a f—ing rockstar too … and it's just amazing."
When asked whether he sees himself as a rapper or a rockstar, Yaweh said he firmly identified with the latter. 
"I'm a f—ing rockstar, bro," Yaweh said.
Aside from touring with other renowned rappers, Yaweh has also collaborated with French Montana and YG. He said he looks for "good vibes" while doing the one thing he loves with others: making music.
"Everything happens organically, it's not forced," Yaweh said. "I make good music, they make good music, we understand talent and we make the best of it. It's our job."