Being threatened by shadowy figures, followed by private investigators and consoled by Rachel Maddow are just a few of the things Ronan Farrow experienced when reporting on decades of systematic abuse in Hollywood — and as of Oct. 15, he has a book that details it all.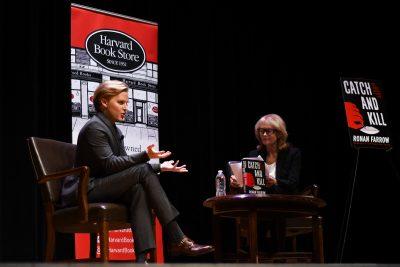 Farrow, a contributing reporter for The New Yorker, joined "Here & Now" host Robin Young at the Back Bay Event Center on Oct. 24 for a conversation about his new book, "Catch and Kill: Lies, Spies, and a Conspiracy to Protect Predators."
Farrow's book discusses the details of his 2018 Pulitzer Prize winning coverage regarding Harvey Weinstein's decades of sexual assault and the extensive system that protected him.
The title "Catch and Kill" refers to when media companies purchase exposes written about their clients in order to bury them before they are released to the public — Farrow said at the talk that this is was "in part, literal."
Farrow said he spent years chasing stories only to have PR firms, media companies and private investigators threaten him to keep his stories under wraps.
"There are a number of institutions where there's tons of reporting on them," Farrow said, "but ultimately it is about patterns that extend beyond those institutions and individuals that lead to a situation across industries where these problems and serious crimes are swept under the rug and paid out to make them go away and people are silenced."
Farrow also spoke about his personal experience with the suppression of certain stories. 
His sister, Dylan Farrow, first accused she and Ronan's father Woody Allen of sexually abusing her in 1992. Farrow said he initially discouraged Dylan from coming forward with her story, but later changed his mind and helped her, along with other victims of sexual abuse, share their stories. 
This is further detailed in his book, Farrow said.
Farrow also spoke about how Weinstein took his sister's story of abuse and turned it into an accusation against Farrow, saying the reason he was mounting his investigation is because he couldn't save someone he loved, accusing him of being "too close to the issue."
"I, in those moments, did confront this idea of how close is too close to the story," Farrow said. "And what becomes very clear, looking at all these great reporters who went after big leads like this, is you're always close to it in a sense of caring in a deep and even all-consuming way."
His sister's pain, Farrow said, helped him empathize with other victims during his time reporting their stories and also motivated him to keep reporting in spite of threats and pushback.
Those threatening Farrow included Australian journalist Dylan Howard, the editor of the National Equirer, who hired lawyers across the world to suppress "Catch and Kill," leading it to be banned in Australia until demand for the novel brought it to the country anyway.
Mariya Manzhos, a freelance journalist based in Somerville who attended the event, said she found Farrow's drive inspiring.
"Once you find a string, you can't stop and you feel that inner responsibility to move forward and kind of break the barriers and get to the truth," Manzhos said. "You're trying to get to the truth and you're dealing with people and public figures whose reputations are important, and who are very aware of their public persona."
Farrow also recently broke the story that the Massachusetts Institute of Technology had been concealing a fundraising connection to Jefferey Epstein. The story, he said, was scrutinized in the same way his previous investigative pieces were.
"Every story I do, there is a massive spin machine that revs up to try to undercut the reporting and attack sources and attack me," Farrow said, "and there's legal threats that there have been a wide and colorful array of directed at 'catch and kill."
But in spite of the pushback that comes with investigative reporting, Farrow said, he will continue to publish and encourage others to do so as well.
"The light is the sources who refuse to shut up," Farrow said. "And also all of the journalists who do speak truth to power, you know, even just that review a journalist not just doing their usual review, but really standing up and giving a cry apart and saying this matters and don't ignore these issues. That's what ultimately changes the conversation."