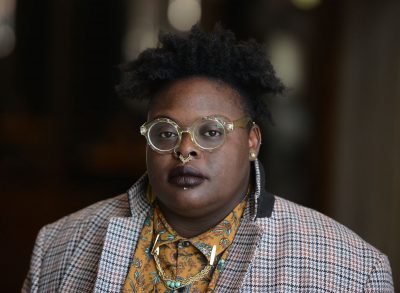 By John Kim and Angela Yang
The City of Boston announced Tuesday it is looking for its first ever Youth Poet Laureate and is inviting young residents to apply for the position. The Youth Poet Laureate will act as an ambassador for Boston's literary world, helping to foster an appreciation for poetry among the city's youth.
The new Youth Poet Laureate will work with Boston's existing Poet Laureate program, which was established in 2008 to promote poetry to residents of Boston, according to a city press release. The city is collaborating with the Boston Public Library, Urban Word and local organizations such as MassLEAP and 826 Boston to organize the new program.
Boston's current Poet Laureate Porsha Olayiwola said city officials and educators have considered creating a Youth Poet Laureate for a while, as other cities across the country have implemented similar programs in the past.
Olayiwola said the city is looking for a poet with the ability to connect with both adults and young people.
"Sometimes you don't know what you're looking for until you have it," Olayiwola said. "It's easy to say it's a great young writer, [but] I think a person who identifies as a writer and maybe who wants to be a writer in their career choice is exciting."
The Youth Poet Laureate needs to be between 13 and 18 years old and needs to have been a Boston resident for at least one year prior to applying. 
Under the mentorship of herself and others, Olayiwola said, the Youth Poet Laureate will help to  edit, write and teach poetry at MassLEAP, a non-profit platform working to foster youth development through spoken word poetry.
"What I think is great is that they'll be mentored by the whole city or a whole collection of artists and the arts organizers," Olayiwola said. "They'll also have their own office space at the Boston Public Library."
Mayor Martin Walsh said in the press release he hopes the pilot program will help the city connect to the youth community in Boston.
"I'm eager to see how this helps to integrate literary arts and an appreciation for poetry into the lives of younger generations," Walsh said.
The Youth Poet Laureate will also present poetry at official functions and events in the city and perform public readings, according to the press release. The young poet will also work to help Boston Public School students develop their skills in writing and will receive $500 per year throughout their term, which lasts for two years. 
Each Youth Poet Laureate will be able to serve a maximum of two terms, according to the press release.
Patrick Pearce, 27, of Kenmore said he thinks it is important that the city is promoting literature to youth.
"I think what could be done is publish more poetry in newspapers and publish more poetry in school websites and start to expose people to poetry," Pearce said.
Jonathan Lunsford, 32, of Allston said he was raised in Boston and did not often read poetry throughout his public education career. He said the school system promoted novels and short stories over poetry.
"I feel like since normal students don't appreciate poetry that much, I believe this program could help promote poetry, get children into poetry more," Lunsford said.
The Youth Poet Laureate application deadline is Nov. 25, and residents between the age of 13 to 18 can apply.