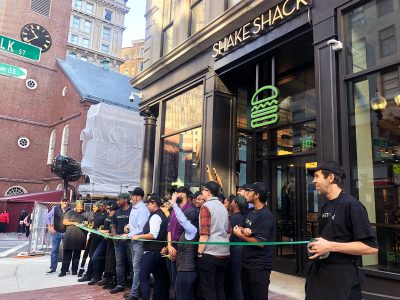 Got a hankering for some quick grub? Boston's Downtown Crossing is getting its second new fast food joint in as many months.
Popular New York City burger chain Shake Shack opened its third location in Boston Sunday. The new restaurant can be found in Downtown Crossing on Washington Street and will be the burger joint's sixth location in Massachusetts.
Doors opened at 11 a.m. and the first 100 people in line received a free Shake Shack T-shirt as they walked in. 
Shake Shack is a chain of fast casual restaurants that started as a hot dog cart in New York City's Madison Square Park. They quickly expanded their menu to include their hamburgers, fries, frozen custard and their titular milk shake and now have nearly 250 locations across the globe.
Shake Shake has five stores located on Newbury Street, South Boston's Seaport District, Chestnut Hill, Harvard Square and Dedham. The Seaport location, which opened in 2016, was the company's 100th location in the U.S.
In addition to their original menu, the location features beers from two local breweries, Harpoon Brewery and Cambridge Brewing Company, as well as unique varieties of their popular frozen custard "concretes."
The specialty flavors are all Massachusetts-themed and include the Colonial Custard, made with vanilla custard, strawberry puree, lemon curd and shortbread cookie; Revere's Tracks, made with vanilla custard, chocolate toffee, shack salted caramel and chocolate sprinkles; and Shake Shack's locally acclaimed Pie Oh My, made with vanilla custard and blended with pieces of Four & Twenty Blackbirds seasonal pie.
Shake Shack will donate 5 percent of all proceeds from this location's sales of the Pie Oh My "concrete" to Project Bread, a local non-profit working to end hunger in Massachusetts by providing sustainable and reliable access to healthy food.
Quentin Keller, 23, of Beacon Hill, waited in line at the grand opening and said he thought the Project Bread donations are important because they show that even chain restaurants can contribute to local communities. 
"I think it's always great when companies get into donating and learning about the community around them," Keller said.
Edward Anthony, 20, of East Boston attended the grand opening said he has been anticipating this opening for a while and believes it will fit in well with the surrounding shops and businesses.=
"I've been looking forward to this for quite a while," Anthony said. "It is right past some new shops that just opened, so it's a good addition to the area. It's interesting."
Daniel Leisner, 23, of Beacon Hill, was at the restaurant's grand opening and said he thinks this location is particularly convenient because now he can walk to get a good meal, whereas before he would have to travel further to areas such as Seaport.
"I think I'm pumped about the location," Leisner said. "The nearest ones were Newbury Street and Seaport, which is a hike from Beacon Hill, so I am excited that we can walk like 10 minutes to get good food."
The opening also generated discussion in the BU community, with some students expressing concerns regarding pricing and others commending the burger chain for its partnership with Project Bread. 
Andrew Eramo, a junior in CAS, said that although he was pleased to hear that Shake Shack opened a new location in Boston, but he had concerns regarding the chain's prices.
"It's a little on the pricey side for a burger," Eramo said. "There would definitely be other places I would choose to go to first, but it is definitely a good meal."
Kylie Graves, a sophomore in CAS, said that when she leaves the BU campus she sees how prevalent hunger is in the city, and is happy to see something being done about it. 
"It is cool that they are giving back to the community, even though they are a chain coming in," Graves said. "At least they have the city's interest in mind."