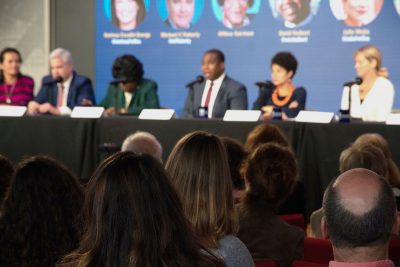 Boston will hold its biennial city council general elections Tuesday, with residents across the city heading to the polls to decide nine district council seats and four city councilor at-large positions.
All polls will be open from 7 to 8 p.m., with two polling locations on Boston University's campus — one in the lobby of Kilachand Hall and the other in the student lounge of the Department of Mathematics and Statistics on Cummington Mall.
As each city council term is two years long, all 13 seats are up for reelection. While the race began with over 50 prospective candidates, September's preliminary elections have whittled the number down to eight candidates for city councilor at large and two candidates each for Districts four, five, seven, eight, and nine.
In Districts one, two, three and six, the incumbent is running unopposed.
Additionally, voters will decide whether to approve a proposal to rename Dudley Square into Nubian Square. Activists who support the change argue that the new name would honor those who were forcefully enslaved and brought to America from Africa, according to the Boston Globe.
The race for city councillor at large will see the four incumbents — Michelle Wu, Michael Flaherty, Anissa Essaibi-George and Althea Garrison — attempt to defend their positions against four challengers: Alejandra St. Guillen, Julia Mejia, David Halbert and Erin Murphy.
During the preliminary elections, Wu garnered the most votes out of all the candidates by far, winning 26,622 votes or over 19 percent of the total vote. She was followed by fellow incumbents Essaibi-George and Flaherty, who won 13.85 percent and 13.68 percent of the vote, respectively.
For the city councilor at-large race, voters will be able to pick up to four different candidates each, with the top four vote-getters being elected into office.
While the city council elections are non-partisan, almost every candidate for city councilor at-large is aligned with the Democratic Party. Only Garrison, who came in fifth during 2017's city council election but ascended to fill the current U.S. Representative Ayanna Pressley's vacated council seat, considers herself to be a conservative, according to the Boston Herald.
In contrast to the race for city councilor at-large, the election to represent District 8, which includes most of Boston University, only has two candidates: Kenzie Bok and Jennifor Nassour. 
In the preliminary elections, Bok won over 50 percent of all District 8 voters, while Nassour garnered 18 percent of the vote. 
The Boston Globe has called District 8's election "Boston's most unusual council race," as while both candidates are highly accomplished activists, they hail from different political parties. 
Nassour, who was endorsed by Massachusetts Governor Charlie Baker, has previously served as president of the Massachusetts GOP. Her opponent, Bok, has broad support from across Boston's political establishment and has worked to support social justice and affordable housing in the city.
During a recent Get Out The Vote Event on Oct 29, Nassour said in an interview that voters should not focus on her political affiliation when choosing their District 8 representative.
"I went into this with the belief in a system that … if it's a nonpartisan position, then our potholes and our crosswalks and our rat issues don't care what party your with," Nassour said in an interview. "It's not anything other than what the issues are in the districts.