Rafael Calderon was the backup goalkeeper for Boston University all through his collegiate soccer career. In his last year with the team, coach Neil Roberts and his backroom staff decided to reward Calderon's professionalism and dedication. Before the season started, Roberts promised Calderon that he would start a game at some point in the campaign.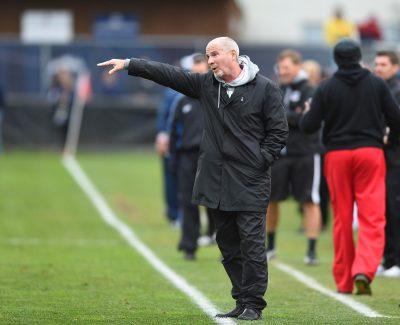 The Terriers had a blistering start to the season in 1994, winning their opening 10 games. The coaching staff decided they'd wait for the unbeaten streak to come to an end and then start Calderon. But, as it turned out, BU didn't lose a game all season, defeating the traditional powerhouses of University of Portland and University of Maine along the way. 
Their last game was against University of Delaware and victory would make BU the first team in the nation to go an entire season unbeaten. But, Roberts hadn't forgotten his promise to Calderon and decided to start him in the biggest game of the season. 
Sitting in the players' lounge of Case Gym overlooking Nickerson Field, Roberts breaks into a smile as he thinks back to that evening in Delaware 25 years ago. 
"Obviously, you wanted to finish number one and kids put pressure on themselves to do that," Roberts said, "but I didn't want Rafael to end up being the guy who lost the game."
Sensing the opportunity to play party poopers to the number one ranked team in the country, 4000 pumped up Delaware fans filled up the stadium. Roberts remembers Calderon being nervous, but he stood by his decision to start him. 
Delaware came charging out of the blocks and right from kickoff had BU under pressure. They hit the crossbar early on and forced Calderon into making a string of saves but BU went into halftime with the game still scoreless.
As Roberts got his men together at the break, he saw Calderon removing his shirt. 
"I asked him what he was doing and he goes 'You said I could start, I started. Now put 40 on,'" Roberts said. 
Number 40 as it turns out was an All-American goalkeeper and he came on in the second half as BU ran out 3-0 winners. 
"Even though we were undefeated and everything like that, we still had to make sure we took care of guys," Roberts said, adding that he still talks to Calderon today and they laugh about the incident. 
This is the biggest tenet of Roberts' coaching style — to see the person behind the player. It's an ethos he's always stuck to since his appointment in 1985.
Only one thing has remained the same in Roberts' 36-year reign as head coach — the kids. 
"From my first team to today, it's always been successful people coming through here," Roberts said.
But, for a man who's won 11 American East Titles, made 13 NCAA tournament appearances and collected five New England Coach of the Year awards, success holds a different meaning. 
"With my guys, you've got options now, my goal for you is to have more options when you leave here, whether it's to play professional, whether it's to go to medical school, whether it's jobs, whatever it is, MBA, law school, for you to leave BU with options," Robeerts said. "And I think we do a pretty good job of that."
The diversity in Roberts' teams doesn't just lie in career paths. The current 32-man roster has players of 11 different nationalities. Roberts called BU a "global university" and spoke of how his teams have always represented the school. On one of the walls in the team locker room, there is a flag for each country that has been represented by the team. 
"We've got 30 something flags on the wall, that's BU," Roberts said. 
The alumni game was scheduled to take place later that day, and Roberts couldn't have been more distracted by it. Each time an ex-player entered the player lounge, his face would light up and he'd call out to them loudly. 
While  talking about the growth of US Soccer, Roberts suddenly broke off mid-sentence  — "never on time Troy, never on time," he jokingly admonished recent graduate Troy Samoa, who was making his way onto the pitch. It was a two-minute interaction, but Roberts had completely lost his train of thought when we returned to our conversation. 
Being surrounded by all his ex-players, Roberts is visibly excited. He doesn't just see them as his former players; he called them his "close friends." Roberts said he is still in touch with a lot of them and admits to being a lot tighter with former players now than when he was a coach. 
This is what sets Roberts apart — he doesn't just build a team, he builds a family. He said that 70 percent of coaching takes place off the field and "the sooner you realize that, the easier the job gets." 
Roberts said that in recent years the job has been made more difficult by social media. Roberts lamented how quiet bus rides have become, with players having their headphones on, lost in their own worlds. 
Along with his coaching staff, Roberts has been trying to change this culture. Phones are collected before team dinners and Roberts says it has now reached a point where he has to ask players to lower their volume when they go out for meals.
The current season has been a challenging one for Roberts and his team. With just four wins this season, chances of making the playoffs are slim. But, Roberts remains a figure of calm. 
In his team talk the previous night for a must win game against Navy, Roberts told his players that this current period is the ultimate test of their character. 
"This is a bad situation, but how do you deal with it? How do you act? How do you come out of it? What is your character as a person? How are your relationships with teammates and that kind of shows really who you are? Roberts asked. 
The message was received loud and clear; his team dug deep and came out with a double overtime victory over Navy the next day, keeping their playoff dreams alive.
BU hasn't tasted success in a while; its last title was back in 2015. When asked about that all-conquering season, Roberts replied "Which one was that?" The understated tone doesn't change after being reminded of the team's success that year; "It was no different than it is now, it was kids fighting and trying to win," Roberts said.