From sock designers to caramel candy makers, the 16th annual Renegade Craft Fair hosted a range of artisans last weekend who displayed their skills and products for the city of Boston.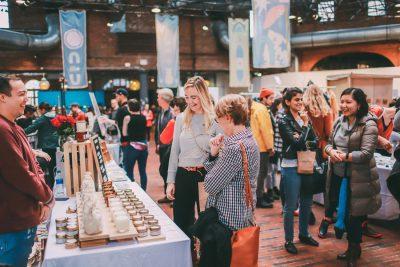 The fair was held inside the historic Cyclorama, providing a space for dozens of small businesses to feature their craftsmanship. 
Admission into the fair was free for the public, as the organizing committee behind the Renegade Craft Fair wants people to save their money for the vendors instead Madelon Juliano, the artistic director of the fair, said.  
"We make the fairs free to attend because we feel that everyone should be able to come in and spend money on our artists," Juliano said. "That's one core element that will never change because it's really there to highlight emerging artists or established brands."
The Renegade Craft Fair originally started out as a small market in Chicago in 2003, but as it expanded in popularity it began to travel to different cities. Over the last several years, the fair has been doing a winter tour across the country with pop ups in San Francisco, New York City and even London, England, Juliano said.
"We jury each fair individually," Juliano said. "Each fair is different and the vendors are not all local. We have them come in from all over the country." 
One of the businesses at the fair was Zil Jewelry, a minimalistic handmade brand by artist Sarah Miranda. 
Zil Jewelry products are made out of recycled items and often come from unexpected sources, Miranda said. 
"When I first started the business I was repurposing stuff and upcycling bound materials," Miranda said. "I would take apart typewriters and make jewelry out of that."
Miranda said the Renegade Craft Fair gives small artists a platform while  maintaining a high standard for all of the businesses that are featured. 
Artisans whose products are displayed at the fair gain an invaluable opportunity to associate themselves with the market, Miranda said. 
"There are so many art markets out there," Miranda said. "What I love about Renegade in particular is that they're extremely professional, they're willing to help and they market their events extremely well."
Another artist at the fair, Kate Martens, featured her designs in the form of greeting cards, postcards, prints and ceramic jewelry. 
Martens, a former art teacher, was unable to continue working full time after having a baby, when she decided to establish a small art business based in Brighton.
"This is a way for me to use the professional energy that I was no longer using," Martens said. "And this is a really fun event, I was very happy to get into it because I think they're pretty stringent about who they choose."
Alongside all of the artisans, Allium Market, a local mediterranean cafe based in Brookline, had a stall at the fair offering a large variety of food from local farmers and sustainable sources.
Talia Glass, the owner of the cafe and bakery, said she was really grateful to be a part of the fair. 
"It's a huge goal for a lot of artisans to make it into Renegade, and so I'm just really excited," Glass said. "Artists can focus on what they do best, which is creating art, and the Renegade can focus on putting on the event."
Being able to feature Allium Market's food at the Renegade Craft Fair was a special achievement, Glass said.
For Glass, her business represents a simple way of shopping and eating, by focusing on local ingredients and making everyday dishes homemade.
"Allium is a speciality food shop, cheese shop like a gourmet market, and a from-scratch bakery and eatery," Glass said. "We specialize in good, honest food made with simple and local, whenever possible, ingredients."
Tiffany Hua, a freshman from Boston University in the College of Arts and Science, attended Renegade Craft Fair for the first time with her friends and said the variety of products at the fair pleasantly surprised her.
"I like seeing all of the crafts from different artists," Hua said. "I was surprised by what I found. It's not what I would normally see in a mall."