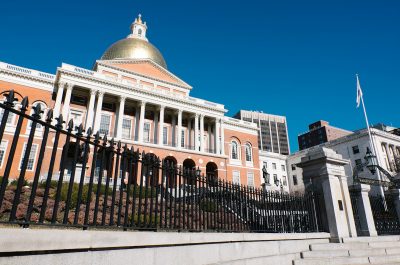 Massachusetts will strengthen its support for child survivors of sex trafficking and exploitation after receiving a $1.5 million grant from the U.S. Department of Justice, Gov. Charlie Baker announced Wednesday.
Working with the Mass. Executive Office of Health and Human Services as well as the Executive Office of Public Safety and Security, the state will use the grant to bolster several programs aimed at helping youth survivors of sex exploitation recover from their experiences.
The World Health Organization defines sexual exploitation as any attempted or actual abuse of power, trust, or vulnerability for sexual purposes. Examples include threatening victims into unwanted sexual acts and benefiting monetarily, socially or politically from sexually exploiting another person.
The state is piloting a "dedicated High Risk Victims Unit" in the Worcester and Hampton County District Attorneys' office to investigate and prosecute cases of sex trafficking, according to the press release. They will also train law enforcement officials to identify young people who are potentially at risk for exploitation.
The state will also use funds from the grant to ensure survivors of sex exploitation are placed in appropriate recovery and treatment services and will work with local non-profits such as My Life My Choice and Roxbury Youthworks to provide training and assistance for staffers at the Massachusetts Department of Children and Families.
Lt. Gov. Karyn Polito spoke at the Massachusetts Children's Alliance Wednesday, where she said she supports the work of the Baker-Polito administration to combat instances of human trafficking throughout the state.
"I am proud of the work the Gov.'s Council to Address Sexual Assault and Domestic Violence contributed to this important grant, which complements the Baker-Polito Administration's steadfast commitment to better identify and prosecute human traffickers and support the brave survivors," Polito said in the press release.
Lisa Goldblatt Grace, executive director of My Life My Choice, an organization working to combat youth sexual exploitation, wrote in an email the grant would strengthen collaboration between recovery nonprofits and the state.
"The enhanced collaboration statewide is the most exciting part of this grant," Grace wrote. "This new grant will serve to enhance the safety net for our state's most vulnerable individuals, from both the victim services and law enforcement perspectives."
Michelle Martin, 33, of Somerville said she believes the state should be working harder to prevent such crimes from happening. 
"I feel like [for] stuff like that you just [have] to get in there and find out who these people are that are doing it and then take them down," Martin said. "You can't do much from afar."
Dianne Kadzis, 58, of West Roxbury said she thinks the state should allocate some of the funds toward preventing victims from being trafficked in the first place, but that it is also important to assist victims in returning to normal life. 
"[What's important is] helping the young — predominantly women, I would imagine — recover psychologically, and then get them back home if that's where they want to go," Kadzis said.
Alan Stoskopf, 69, of Brookline said she thinks it is important to maintain an open dialouge around the issue of sex trafficking and exploitation.
"They [should] have an opportunity to tell [their] story, and that can happen a lot of different ways through the media, but also maybe through forums where they can meet with people," Stoskopf said. "Of course, it's one thing to say we're going to do this, there really [needs to be] a commitment to have this happen."