The 2019-20 season didn't start off on the brightest note for the Boston University men's basketball team.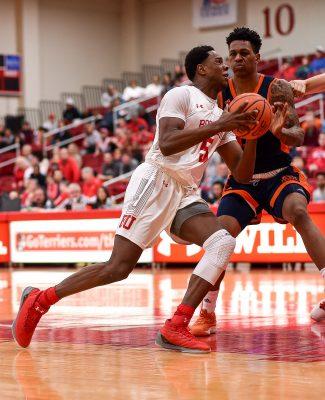 The Terriers (0-1) fell to the crosstown rival Northeastern University (1-0) in a back-and-forth battle that came down to the final thirty seconds, 72-67.
With 35 seconds left in regulation, Husky senior guard Bolden Brace drilled a 3-pointer to sink BU and deflate a raucous opening night crowd.
BU head coach Joe Jones said the team made mistakes, but that all the credit has to go to NU.
"I was proud of the guys, I thought we fought. I think there's some things we can learn from this game and if we can do that, it can help us," Jones said. "[Jordan] Roland was sensational. He scored 39, that might be the most anybody's scored against us since I've been here … you've got to tip your hat to some of the shots he was able to make against us."
The first half of the season was about as even as it could get between the Terriers and Huskies.
Senior forward Max Mahoney got things going for BU, with a posted-up layup over a NU defender, but the Huskies answered back with a jumper of their own, which quickly became the theme of the game as both teams traded blows.
BU never relinquished the lead in the first half, leading by as many as seven points. The Huskies battled back and eventually made it a one point game at the end of the half when guard Jordan Roland converted a layup with 30 seconds left in the half to make the score 33-32 in favor of the Terriers.
At the break, Roland led all scorers with 18 points. Terrier Sophomore guard Walter Whyte paced BU in the first half with 13 points as he made a triumphant return from an ankle bone bruise that cost him all of the 2018-19 season.
Jones said Whyte's return was no surprise because of his effort and willingness to be coached.
"He was terrific tonight and that's not surprising, he's played well. He's a good player, he's played well, and he's got a great attitude," Jones said. "We had a really poor practice Sunday, I was on him about what he should be doing and he sent me a text and owned it. He understands that he is held to a higher standard than other guys and he's owning that, that's what I love about him."
Coming out of the break, the Huskies came out firing. Terrier junior guard Javante McCoy nailed a 3-pointer to start the second half, but NEU followed up quickly with two threes of their own to tie the game at 38.
NU took its first lead of the game just two and a half minutes into the period when Roland scored his 23rd point of the game on a jumper to make it a 42-40 game.
Roland's offensive game was the highlight of the night for him, not his defense as he picked up two consecutive fouls with nine minutes left to play to put him at four fouls. He was subbed off the court and was visibly frustrated as he sat down on the bench but returned 40 seconds later.
The Terriers used these two fouls as an energy burst and brought themselves within two points at 55-53 after junior guard Andrew Petcash made his second 3-pointer of the game.
NU would briefly take a two point lead before Whyte threw down an emphatic dunk off of a McCoy steal that sent the BU crowd into a frenzy with a little under four minutes to play.
Both teams traded blows like they had all game, until Brace nailed the potential game-winner to give NU a 68-65 lead with just over 30 seconds left.
A missed 3-pointer by the Terriers forced BU to foul and give the Huskies a chance to ice the game at the free throw line.
Roland converted both free throws to give NU a 70-65 lead with 14 seconds left. The game was not over yet though, as the Terriers stormed down the court for a quick layup with seven seconds left.
A timeout was called by Jones, but the ensuing inbound pass found Roland, who converted free throws again to put BU away for good.
Roland finished the game with a career-high 39 points and Whyte finished with a career and Terrier-high 23 points in his return.
Whyte said the preseason games in Spain and at home prepared him mentally and physically for his return.
"I didn't feel like I was nervous at all," Whyte said. "I put in a lot of time and a lot of work in the offseason and the doctor did a great job helping me get to where I am now. I felt that progression … and I felt like I was ready.