After showing signs of improvement in the 2018-19 season, the Boston University women's basketball team is looking to take another step forward under second-year head coach Marisa Moseley.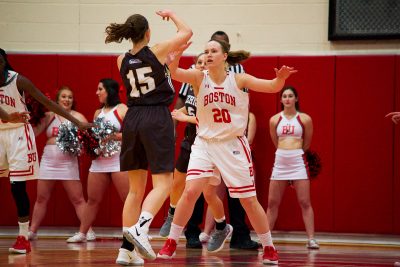 Before Moseley arrived, the Terriers put up a losing record in every season since 2012-13.
In the first year under Moseley, the Terriers posted a winning record of 15-14 and an 11-7 record in the Patriot League, matching its best league record in team history. With the team's performance, Moseley was named Patriot League Coach of the Year.
Coming into this season, BU was picked to finish fourth in the Patriot League preseason poll, making it the Terrier's highest preseason ranking since joining the league.
The team returns nine players from the previous season, while having six newcomers.
The Terriers will be tasked with replacing guard Payton Hauck, who led the team with a total of 344 points last season and averaged a team best 12.3 points per game.
Two other players the Terriers will need to replace are forward Naiyah Thompson and guard Lauren Spearman. Thompson scored a total of 194 points last year and averaged 6.7 points per game. Spearman scored 274 points last year and averaged 9.4 points per game.
Moseley recognizes the youth of the team, as well as the production that the team needs to replace, but still remains confident in the talent of her squad.
"We are more talented, but we are still very young and so I think it is going to take us a little bit of time to get everybody on the same page," Moseley said.
Although BU is a young team overall, the Terriers do return multiple important players from the previous season.
Senior Nia Irving, junior Katie Nelson and sophomore Riley Childs all saw significant playing time last year and all are returning this season. Irving had the second-most overall points on the team last season with 308 and Nelson led the team in minutes played with 1100.
The Terriers also return junior Mackenzie Miers, senior Vanessa Edgehill, junior Tenisha Pressley, sophomores Chiara Tibbitt and Ashley Sieper and sophomore Audrey Nicholson who missed last season due to injury.
Moseley will be looking to these more experienced returning players to step up and help guide the new players on the team.
"I want to see the returners and the leadership of Katie Nelson, Riley Childs and Nia Irving," Moseley said, "have them be consistent leaders and role models every single day."
Moseley said she has also been impressed with the performances of some of the freshman, specifically guards Sydney Johnson and Annabelle Lanard.
"So far in practice we've seen Sydney Johnson, freshman, and Annabelle Lanard, freshman, who have stepped up," Moseley said.
With the season approaching, the team is still looking to improve both offensively and defensively, specifically with all five players on the court having the ability to score and play with a higher intensity on defense.
"Ultimately, we want to be able to have five scorers on the floor at all times and I think we're continually moving closer to that," Moseley said. "… Defensively I just want us to increase our intensity … Create some offense off of our defense and really take pride in getting stops."
The Terriers will tip off their season on Nov. 8 against Marist College at home.