Michigan music producer and singer Alex O'Neil has a positive outlook on life — his stage name, Ayokay, says as much. Known for his relatable lyrics and amiable attitude, Ayokay gave an honest performance Sunday night at the Boston Sinclair that reflected his warm personality.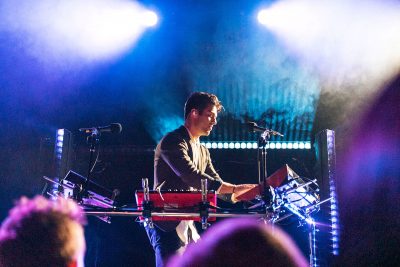 Ayokay began touring the day after releasing his latest EP "we come alive. (Side A)," whose follow-up, Side B, is in the works. In an interview with The Daily Free Press, the artist said the tour has been rewarding so far and performing on stage in front of his fans has been "effortless."
"It's been such a good tour," Ayokay said. "Honestly, I think these shows have exceeded my expectations a lot. And I think there's nothing like the payoff of seeing people actually buy tickets to come see [me] play live."
But this isn't Ayokay's first rodeo in Boston, having performed at Great Scott in Allston in 2018. He said coming back to Boston "feels just so full circle" with how much his career has advanced since then.
He and his longtime friend Nicholas Perloff-Giles, known on stage as Wingtip, joined forces to create a dynamic performance. Wingtip strolled on stage first, opening the night with "Heatworks." He strummed his yellow guitar, closed his eyes and sang with passion throughout his time on stage. 
Wingtip said touring with his friend has been fun. Similar to Ayokay, this isn't his first stop in Boston. Wingtip said he has gained more friends who live in the city after stopping here a couple of times before.
"It's better every time," Wingtip said in an interview with the Daily Free Press. "It's like having friends that you see once a year."
As the lights dimmed and the crowd focused their attention on stage, fans were greeted with one of the human-sized, fuzzy "monsters" from his album cover, which shared an uncanny resemblance to the monsters from Maurice Sendak's "Where the Wild Things Are." 
As "Things Fall Apart" began to play, Ayokay took center stage, swaying to the beat of the song. His charismatic voice mixed with the upbeat tempo of the tune turned the venue into a dreamy landscape.
Ayokay smiled on stage, clearly having a good time as he transitioned into "Swing Swing" — his favorite song he has written, Ayokay said.
"It's a Sunday night, but are you ready to turn up?" Ayokay asked, encouraging the audience to move their bodies. Indeed, the crowd was just warming up.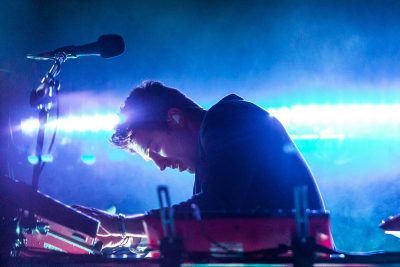 Accompanied with a guitarist on the left and a drummer on the right, the singer balanced DJ-ing and singing well throughout the night. This fits into what he had been doing more lately: singing and experimenting with different tempos, which he does well due to his background as a music producer.
"I think my goal with [we come alive] was to try to channel the indie band, electronic song thing into today's electronic landscape," Ayokay said.
He toned it down after the energetic openers with "California Will Never Rest." The crowd followed the slower tempo of the song, slowing down their movements in the pit, as Ayokay belted out, "The answer plays on in our heads/ Black and white torn images/ We'll drift into our inevitable irrelevance."
Ayokay said "California Will Never Rest" was heavily inspired by rock band LCD Soundsystem and is his favorite song to perform now that he's touring with a band of his own.
"It feels like that song was designed for [my] band, where it's like, my older music was designed as a one man producer," Ayokay said.
He then switched gears to one of his older singles from 2017, "Cassette." The flashing lights surrounding his figure created an enigmatic silhouette on stage and his energy could be felt through his tireless jumping.  
Next came "You Think Too Much," an unreleased song from Side B of "we come alive," and silence engulfed the venue as the audience listened intently to the new song. 
After the slower "You Think Too Much," Ayokay then jumped back into his classic synths and let the crowd sing along to his pre-recorded voice in "Stay With Me." He looked ever-so comfortable jumping around and headbanging to the beat of his own music, which added to the chill vibe of the show.
After he performed singles "The Shine" and "Queen" (one a collaboration with Chelsea Cutler and the later with Quinn XCII), he paused the song to make a toast, thanking the audience for spending their Sunday night with him.
Mixing songs from his entire discography was a smart move for his concert. The process of creating his latest EP involved repeatedly listening to several songs on Spotify, such as "Rushing Back" by Flume and "I Don't Think I Can Do This Again" by Mura Masa and Clairo, as well as experimenting with different tempos, Ayokay said. 
Ayokay proceeded to sing "Wasted Touch," explaining to the audience that the song was specially designed for live performances. Despite restarting the song after a small sound mishap, he set an intimate mood with the song. This song was perhaps the most emotional as he crooned "I'm not the one who's on your mind."
"Let's make it a vibe in here," Ayokay said into the microphone as he settled into "Dear Luca" with another flawless transition. He didn't miss a beat as he continued singing "Sleeping Next To You" and playing a quick snippet of MGMT's "Kids." And with that, he threw a peace sign and left the stage.
Ayokay's abrupt exit didn't last long — the crowd began chanting "One more song" right after he left. The singer and his band came back almost immediately for an encore with "Sleepless Nights." 
For his last song, Ayokay performed "Kings of Summer," which he had also recorded with Quinn XCII. It was as if the artist knew what the crowd had been waiting for.
"People lose their s— for that one," Ayokay said of the song.
He was spot-on. Not one person in the venue missed his cue to "jump around" with him as Quinn's taped vocals blasted through the speakers.
With his impeccable stage presence and smooth transitions, it's clear that Ayokay gave his all to Sunday's performance. Electronic dance music doesn't just belong to "rave" culture, as Ayokay has proven with his lyrical and low-key EDM music that still maintains a beat. 
Boston was amongst the last few cities in Ayokay's tour, with only four more tour dates following Sunday's performance. After spending months on the road headlining shows with his band, Ayokay said he thinks that everything ended up where it should be — from the start of crafting his album to performing it live.
"I feel like I set out to do something with [the album]," Ayokay said. "I had such a vision from starting to create the album to how it would translate to the live show, and I feel like I've done that to the best of my ability and I think I've nailed that portion of it."