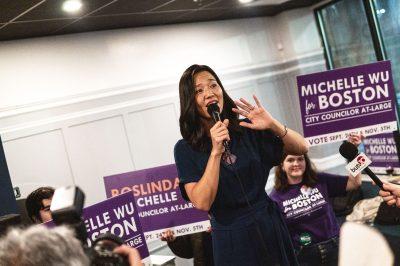 By Alyssa Figueroa, Samantha Kinzer, Lincoln Currie
Tuesday's election to decide Boston's four city councilor at-large seats ended with a serious nail-biter.
While incumbents Michelle Wu, Annissa Essaibi-George and Michael Flaherty successfully defended their seats, Althea Garrison — the fourth incumbent — was not reelected, coming in seventh place. 
Instead, challengers Julia Mejia and Alejandra St. Guillen battled the entire night for Boston's fourth at-large seat, with the city's unofficial results placing Mejia over St. Guillen by only 10 votes.
Wu led the pack with 41,616 votes or 20.71 percent, with Essaibi-George in second with 34,054 votes or 16.95 percent of votes and Flaherty coming in third with 33,242 votes or 16.54 percent, according to the unofficial results. Meanwhile, Mejia garnered 22,464 votes and St. Guillen trailed closely with 22,454. Both won 11.18 percent of the vote.
While St. Guillen originally conceded the race earlier in the night, saying that the margin of votes separating her and Mejia was "too much to make up," she later released a statement calling for a recount after the unofficial results showed her trailing by only 10 votes.
"Every voter who came out and cast a ballot — whether it be absentee, in the voting booth, or provisionally —  deserves a full and complete count to determine who is our next city councilor at-large," St. Guillen said in her statement.
Challenger Erin Murphy came in sixth place with 16,843 votes or 8.38 percent of the vote, while Garrison — the only incumbent not to be reelected — came in seventh place with 16,161 votes or 8.04 percent. The final candidate, challenger David Halbert, finished in eighth place with 13,201 votes or 6.57 percent, while write in candidates took up 0.44 percent of the vote.
As Wu delivered her victory speech at her election party Tuesday night, she said her first successful election to councilor at-large in 2013 marked the beginning of a more diverse and representative city council.
"Six years ago to the day, we were celebrating my first ever election night in 2013," Wu said. "That night, we doubled the number of women serving in the Boston City Council [from one to two.]"
Wu said the City Council has continued to diversify and encourage a new generation to run for office, to the point that the City Council will be mostly composed of women for the first time in Boston's history
"Just six years later, I'm told that we're pretty confident next year we will have eight women serving on the Boston City Council," Wu said in her speech. "We are here because you believed in the city of Boston, and you believe that the City Council matters."
During the next two years, Wu said during her speech she would focus on improving Boston's transportation system while also pushing the city to prepare for and combat climate change
"The heat is coming, the floods are coming, the traffic is coming as well," Wu said.
"All of these issues are fundamental to the quality of life around the city and to the future." 
Following her speech, Wu said to The Daily Free Press she was able to use this year's campaign as a platform to build relationships with members of the community and encourage greater participation in local elections. 
"We really felt that this year," Wu said, "there's an opportunity to not just think about running for reelection and securing a seat, but pushing for turnout to be high and pushing for people to feel connected to city government."
Kevin Ready, 35, from the South End, attended Wu's election party and said one of the reasons he supported Wu's reelection was because he always thought that Wu has been an advocate for the people of Boston her entire public life.
"She's spent her available time working for the community," Ready said. "And since she's been in Boston, she has been fighting for the people of Boston, whether it was as an elected official or as an activist, and I've really admired and appreciated that."
Second-place finisher Essaibi-George said to The Daily Free Press before results were released her goals would not change if she was reelected.
"The work that I've been focused on is much more long term, but where we're looking to modify it," Essabi-George said. "Especially around family homelessness, it's shifting from planning and conversation to action."
Members of Essaibi-George's campaign said the councilor has focused on eliminating family homelessness in Boston. 52-year-old volunteer Colleen Coughlin said Essaibi-George's dedication to this issue is what originally convinced her to join Essaibi-George's campaign.
"I like what she's done with the kids and homelessness for families," Coughlin said. "I never knew about all the kids that were homeless and still went to school, so that kind of sparked my participation."
After learning of her strong second-place finish, Essaibi-George thanked her staff and supporters in a victory speech, but said they must not forget why she decided to run for reelection.
"It's about families experiencing homelessness," Essaibi-George said, "and not just this idea that we can do something, but that we've laid out a roadmap to end family homelessness in the city."
Homelessness, however, is not her only concern. Essaibi-George said to The Daily Free Press after declaring her victory she will push to improve the lives of Boston's residents in a variety of issues.
"When I think about my work, I think about broad brushstrokes," Essaibi-George said. "It's improving education, it's eliminating the achievement gap in all of our schools. But there are specific ways that we do that, and those steps are really important to me."
While the race for the fourth councilor at large seat proved to be inconclusive Tuesday, St. Guillen said during her initial concession speech she was still proud of those who helped her during the campaign.
"I feel super proud of the campaign that we ran," St. Guillen said. "I feel like we put it all out on the field."
After declaring her own victory, Wu arrived at St. Guillen's election party at Bella Luna & the Milky Way in Jamaica Plain to support the candidate. Wu had earlier endorsed St. Guillen for one of the four councilor at-large seats.
Jason Bushey, 32, of Fenway voted at the polling station at Boston Temple Seventh Day Adventist Church and said he chose to support all the current incumbents.
"I honestly wasn't super informed walking into this one, but did remember that it was Election Day," Bushey said. "And I had some friends tell me that the existing councilors are doing a good job and I honestly just kind of went for that."
Rinat Sergeev, 42, of Kenmore went to the polling station at Boston University Kilachand Hall and said he voted entirely for challengers because he was unsatisfied with the members of the previous council.
"It's good to equalize it a little bit with any kind of preexisting administrative recourse that you have, so you can broaden the discussion," Sergeev said.
Kristen Richards, 34, of Kenmore said she voted for Wu, Garrison, Halpert and Murphy because of their campaign issues.
"[Murphy] is supporting Boston Public Schools and I'm a teacher," Richards said. "The others are focusing on affordable rent and traffic — like congestion — and problems w` ith the T."
Marion Cassidy, Mia Khatib and Angela Yang contributed to the reporting of this article.