An enraged Charles Manson leaps across the courthouse, pencil flying toward the unflinching Judge Older. Michael Jackson quietly wipes his eye as he is acquitted in his pedophile case. Moments that are shrouded behind closed courtroom doors are alive now only in the sketches from courtroom artists.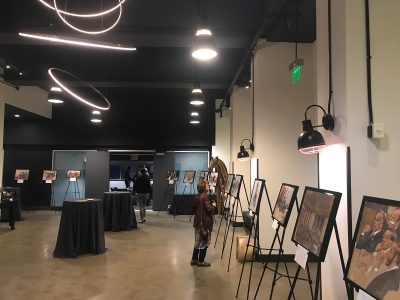 Sunday evening, the creators of the upcoming documentary "Illustrated Courtroom: Manson to #MeToo" hosted an art gallery fundraiser at the Revere Hotel in Boston. The event featured 20 pieces of courtroom art spanning 50 years from the three artists featured in the documentary, all of whom are still active in the field today.
Bram Lowenstein, executive producer and co-director for the documentary and a senior at Emerson College, said he hoped the event would encourage people to relive their fascination for these historical events.
"We really just want people to have a fun, calm night, learn about something new and maybe begin to have a new perspective or outlook on just how these things are viewed," Lowenstien said.
Aggie Kenny, a courtroom artist present at the event, began her career at WCBS, a CBS-owned radio station broadcasting from New York City, in the early 1970's on the Hugh Addonizio trial. She received an Emmy for her coverage of the Post-Watergate Mitchell-Stans trial in 1974 for the CBS Evening News.
Kenny said that despite the changes to the field, she has found the courtroom to be a wonderful opportunity to pursue her passion for art.
"I love working as an artist and I specifically love drawing the human figure in motion. It's always a challenge and very, very interesting," Kenny said.
Beyond courtroom art, Kenny's sketches on the excavation sites at Ground Zero in 2002 were also featured at the event. These watercolor pieces are from a larger collection called "Artists as Witness — the 9/11 Responders" previously exhibited at the New York City Police museum. Kenny was the only artist to access the excavation site at Ground Zero during this time and went independently.
Artist Elizabeth Williams kicked off her career in 1980 under the mentorship of Bill Robles, another artist featured in the documentary. Her sketches included at the gallery depicted Harvey Weinstein, El Chapo, Jeffrey Epstein, Tekashi 6ix9ine and Felicity Huffman in their courtroom moments.
Robles, the only living courtroom artist to have drawn Charles Manson, is renowned for the detail in his sketches. His career in courtroom art, portraiture, and illustration has spanned over four decades, earning him a Lifetime Achievement Award from the Society of Illustrators in Los Angeles. 
Taylor Young, an Emerson College student, said she was thrilled to attend the gallery and talk to the artists because she's interested in pursuing a career in courtroom art herself. Young said she particularly enjoyed observing each artists individual style when creating a courtroom sketch.
"There's a lot more to them than people might think," Young said. "I appreciate the talent that goes into doing something so quickly and so detailed."
The proceeds of the exhibit will support post-production costs for the documentary, specifically animation and distribution. The kickstarter campaign for the project sets out to raise $27,500 by Nov. 23.
The documentary is slated to be 30 minutes, Lowenstein said, and hopefully completed by July 2020. He said he envisions the documentary becoming a pitch pilot for a three-part documentary, where each artist gets their own part.
"It was definitely something that ballooned from day one, we didn't expect it to become as big as it is," Lowenstein said. "But the fact that it is as big as it is right now is incredibly rewarding."
Lowenstein said he hopes the gallery allows people to relive the fascination they felt when first encountering all this history and to gain a better appreciation for this craft.
"I want people to come out of this with a belief in the artists behind the art," Lowenstein said, "but also the artists behind this documentary, that what we can do can really, really impact a large amount of people.
Update: Since the publication of this article the creators of the documentary have cancelled their kickstarter campaign.