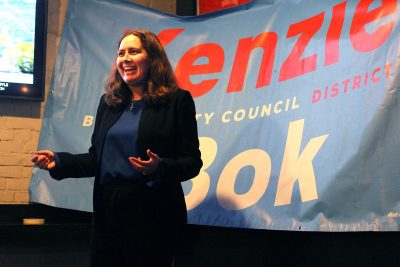 By Matthew Sensabaugh and Vanessa Kjeldsen
Candidate Kenzie Bok defeated opponent Jennifer Nassour to win the District 8 City Council election Tuesday night. Bok won each precinct with a total of 3,659 votes or just over 70 percent of all District 8 voters, according to unofficial election results released by the City of Boston as well as her campaign staff.
Bok thanked Nassour for running during an acceptance speech at her election party at Irish pub LIR on Boylston Street, the same location where she first announced her campaign for City Council.
"In the heat of a hard-fought race, sometimes things get passionate," Bok said. "I am so grateful for everyone that turned in a ballot today, regardless of whether it was for me or her."
Nassour said to The Daily Free Press she was grateful for the effort behind her campaign.
"Every single resident voice should be heard whether they are conservative, liberal or smack in the middle," Nassour said. "I decided to do this because I felt like we needed another voice out there."
The incumbent candidates for Districts 1, 2, 3 and 6 all ran unopposed, with Lydia Edwards retaining her seat in District 1, Edward Flynn reelected in District 2, Frank Baker staying in District 3 and Matt O'Malley returning as councilor for District 6.
For the final four districts, Andrea Campbell won against Jeff Durham in District 4 with 4,557 votes or 87 percent, Ricardo Arroyo won against Maria Farrell in District 5 with 5,325 votes or 55 percent, Kim Janey won against Roy Owens with 3,847 votes or 75 percent and Liz Breadon won against Craig Cashman in District 9 with 3,883 votes or 59 percent, according to the unofficial results. 
Bok said during her acceptance speech that tonight's election was a step toward creating a future that represents the people of District 8.
"Big challenges don't get solved by talking about them," Bok said, "they get solved by organizing and doing what we did for this campaign."
At Nassour's election party, fellow Republican and former U.S. Senate candidate Beth Lindstrom said she expected it to be difficult for a Republican to get elected in Massachusetts.
"Some people say just because you're a Republican 'I won't vote for you,'" Linstrom said. "Because of this overarching administration, you're looked upon as something less than competent."
Nassour's election party drew a crowd of about 20 supporters at her campaign headquarters in Beacon Hill. 
Maureen McInerney, Nassour's campaign manager, said she was satisfied with how much the campaign accomplished.
"I feel exceptionally proud," McInenery said after the loss. "I don't think that anyone can say we left anything on the table.
Bok, who will be succeeding current District 8 Councillor Josh Zakim, said to The Daily Free Press her main focus will be on housing and climate change.
"I'll be making sure that those who voted for me know I want to be their councilor," Bok said.
Zakim told The Daily Free Press after the election he will be working with Bok to help with her transition into her position as a city councilor. 
State Representative Jay Livingstone, who attended Bok's campaign party, said Bok will represent college students in her district — which includes BU — by concentrating on affordable housing.
Bok's campaign manager Carolyn Schuette said Bok will be effective as a housing advocate and progressive leader.
"She is one of the smartest people I have ever met," Schuette said. "I don't know anyone better to tackle some of the more complex challenges that Boston faces."
Campaign intern and Boston College student Sam O'Connor, 20, said Nassour's strong stance and focus on local issues drew him to her campaign.
"Jenn is someone who sticks to her values and can argue very explicitly for what she believes in," O'Connor said. "She's so vibrant."
Voters shared their ballot choices with The Daily Free Press while exiting District 8 polling stations at Boston University's Kilachand Hall and the Boston Temple Seventh Day Adventist Church.
Corinn Cassarino, 50, of Fenway said she liked Bok because of her qualifications to tackle the housing crisis.
"I [voted] for Kenzie Bok because she is connected to the housing department and I think that housing needs very important in this part of the city," Cassarino said.
Bok worked to develop policy for the Boston Housing Authority, according to her campaign website.
Jessica Roy, 37, of Fenway said she voted for Bok because she was impressed with her campaigning.
"She did a lot of grassroots efforts to get her name out," Roy said, "and I just figured if she was organized enough to have that kind of robust of campaign that she would be effective when she got in office."
Eric Tyler, 26, of Fenway said he voted for Nassour and that he made his decision based on the visibility of the candidates within the community.
"I think local politics is probably the most important," Tyler said, "so that's why I'm out here today."
Marion Cassidy, Mia Khatib and Angela Yang contributed reporting for this article.