In 2009, a group of students auditioned for a comedy group at Boston University, and in spite of being "called back," weren't accepted. Instead of feeling defeated, these students made their own comedy troupe called — wait for it — The Callbacks.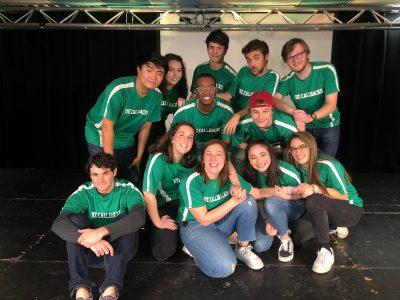 Ten years later, the group is still keeping BU laughing.
The Callbacks are a sketch, improv and video comedy group that have grown over the years through countless BU Central performances and on-stage appearances.
Jordan Grannick, a senior in the College of Communication and the club's vice president, said each member's personal comedy style help make up the structural base of The Callbacks.  
"I think one of my favorite qualities of The Callbacks is that we encourage individual comedy styles," Grannick said. "The comedy can definitely change year to year, but the values are very much the same as they were ten years ago."
Grannick said he has been a part of the group since his first year at BU. A staple within the close-knit comedy community, he said, is an emphasis on gathering distinct styles of performance. It's this diversity in comedy styles, Grannick said, that sets The Callbacks apart.
"Many of us share similar senses of humor," Grannick said. "But every year, we get new and different ideas."
The group performs at least two shows per semester, which Bennett Morgan, a senior in COM and the current president of the group, said strengthens the organization's standing.
"A lot of clubs don't get the chance to grow as much as we have in a ten-year span," Morgan said. "I think our 10th anniversary is a testament to the community we've built and its staying power."
Fundamentally, The Callbacks are a haven for new, funny and creative minds, new member Rozime Lindsey said. Lindsey, a freshman in the College of Fine Arts, said he joined the group this semester and had his stage debut at Friday's anniversary show.
Lindsey said that while he had never performed comedy before, The Callbacks made him feel welcomed and comfortable enough to audition and interact with the other members.
"The experience performing with the Callbacks was just an energy-driven, positive and fun experience," Lindsey said. "I can't think of any other way I would rather spend my time."
The Callbacks' set on Friday included equal parts sketch and improvisation, in addition to digital short videos. BU Central was packed with students celebrating the occasion and witnessing a milestone moment for the young club.
Meera Sabeh, a junior in COM and secretary of the Callbacks, said she feels a responsibility to uphold the group's reputation among current and former members.
"It comes in the form of a great honor," Sabeh said. "I feel that this is a very special time to be a Callback."
These sentiments were echoed by Grannick, who emphasized the importance of the show itself and its impact on crowds for the past decade.
"The Callbacks are a collective effort and what has helped us reach ten years is the group's cooperation in making sure that we are always at our best," Grannick said. "The 10th anniversary is a big deal to me."
In keeping their jovial and friendly energy alive, The Callbacks look forward to a future of creative promise, interesting perspectives, and continued group vitality, Sabeh said.
"Ten years is a huge milestone," Sabeh said. "But I believe the foundation of the troupe is solid enough to stay standing many more years down the road."