At a glance, it looked like just another day at the Museum of Science in Boston. But with a closer look, one would notice that Saturday's museum-goers included groups of friends in carefully crafted matching costumes, people donning colorful wigs in extravagant styles and mothers carrying young children in Pokemon onesies.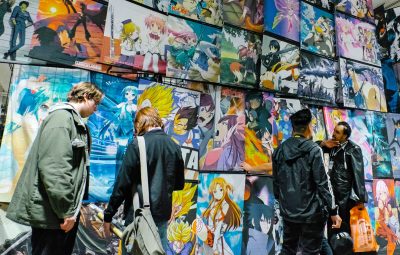 Fans of all ages gathered for the second-annual Anime Boston Weekend at the Museum of Science to celebrate anime through a variety of programs and events put on by the museum.
One featured program was a panel focused on creating cosplays, presented by cosplayer Mel Coombs. Known by the name "groosetastic" on social media, Coombs discussed the intricacies involved in planning and creating costumes for conventions and other events. 
Coombs said in an interview she wants people to know cosplaying is a hobby that can be practiced by anyone, regardless of skill level. 
"It is a very intimidating hobby and there are a lot of people who do it and do it very well," Coombs said. "Do not let the progress of others deter you from diving in and giving it a shot."
Anime Boston Weekend also featured a cosplay fashion show and competition, where attendees had the opportunity to show off their cosplays and compete against one another. 
Sam Royston, a 23-year-old from Lowell, won in the advanced division of the cosplay competition with his costume of Avatar Aang from "The Legend of Korra." 
Royston said he decided to dress up as Aang because he and Aang are both bald.
"I was in college, senior year, I was working in a lab and I burned off half my hair and I started going bald," Royston said. "I decided to make it a choice." 
Royston said he devoted a lot of work into creating this cosplay, including cutting down trees to create the medallions featured on his costume. 
Ryan Thomas, marketing coordinator for the Museum of Science said Anime Boston Weekend was initially created to bring fans of science and fans of anime together. 
"We believe that there are similar audiences in the sense that there is some crossover between people who like anime and people who like science," Thomas said. "We're always trying to welcome new audiences that might not be familiar with the museum into the museum to experience it and see if it's for them." 
Thomas said he hopes Anime Boston Weekend becomes a recurring event that continues to grow and improve over time. 
"Each year, we hope to build on this and make it better," Thomas said. "It is something we hope to make an annual event, just increasing the magnitude and making it a better experience for everyone each time we do it." 
Jenna Leary, vice chair for Anime Boston, said in an interview that events like the weekend serve as a way to introduce Anime Boston to more people.
"This is a great way to introduce us to a crowd of people who may not have even heard of our convention," Leary said. "It's also really cool when we get to do crossovers." 
Leary said events like Anime Boston Weekend are important because they allow people to make connections between anime and other topics. 
"It's interesting to make those kinds of connections, plus it's a learning thing," Leary said. "It's always good to keep learning." 
Kate-Lyn Gingerich, assistant director of programming for Anime Boston, presented a panel Sunday that explored the influence science has had on anime. 
In her talk, Gingerich discussed how some superpowers featured in anime could be plausible in real life — but also how some were complete fiction. 
Gingerich said in an interview she hopes that, from her talk, people will see how science and anime connect to each other.
"I really hope that when people look at an anime that they're not thinking it's just for kids," Gingerich said, "but they're also saying 'oh, wow, this anime is about time travel and they go into the real depths of this. This is so cool.'"