A fan favorite show about a fictional paper company has made its way off the screen and onto the stage.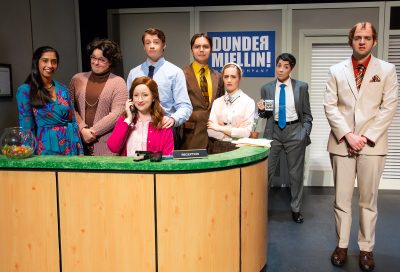 "The Office! A Musical Parody," an unauthorized parody of the television show of the same name, began its Boston stay at the Calderwood Pavilion on Nov. 5. It is the latest in a series of parody musicals by Bob McSmith and Tobly McSmith, whose previous productions include "Friends! The Musical Parody" and "Bay Side! The Musical! The Saved by the Bell Musical." 
With music composed by Assaf Gleizner, "The Office! A Musical Parody" depicts a day in the life of the Dunder Mifflin Paper Company. Just like the TV show, the musical is meant to be a mockumentary, but this time the live audience was the camera crew. Characters gave their confessional-style monologues directly to the audience. It was an effective artistic choice that combines the feeling and style of the source material with the benefits of live theatre. 
The plot of the show can be described as a sped-up SparkNotes version of the entire series. In terms of pacing, it's hilariously breakneck but never feels rushed. All of the office relationships, corporate buyouts and other noteworthy events that happen at Dunder Mifflin over the course of the series made their way into the show. 
Because the musical is essentially a crash course of the TV show, there was no shortage of subtle nods and playful references. Some references were sprinkled in one-liners, but others were turned into full-fledged infectiously catchy musical numbers. 
The "Dinner Party" episode got its own musical number, complete with the show's famous couple Jan Levinson and Michael Scott's quick-witted bickering. Michael's infamous "that's what she said" quips were also turned into a song. Kevin Malone gets an entire song to tell the audience about his famous chili, which, of course, all leads up to him spilling it offstage.
A show with this many references to its source material runs the risk of being cheesy, but all of the references in this show were well-done and well-placed. No reference ever felt forced or overdone, which is quite an accomplishment for a parody show. 
In addition to poking fun at the original TV show, "The Office! A Musical Parody" at times broke the fourth wall and poked fun at real life. 
Devina Sabnis played a variety of roles, including Karen Filippelli, a character with whom Jim is briefly romantically involved. After Jim broke up with Karen to be with Pam Beesly, Sabnis exclaimed "I'm off to be in Parks and Rec. now!" as she exited the stage. This line is a nod to the fact that Rashida Jones, famous for playing Ann Perkins in "Parks and Recreation," played Karen in the TV show version of "The Office."
Jokes like these add another layer of comedy to the already joke-filled show.    
Performing a two-hour musical version of a nine season-long TV show is no small task, but "The Office! A Musical Parody" has a cast that did the job exceptionally well. 
One of the standout performers in this exceptional cast was Patrick Constant, who played the roles of Jim Halpert and Andy Bernard. 
The two roles that Constant took on are wildly different from each other, but Constant did an outstanding job. He moved flawlessly between the charming and sweet Jim and the over-the-top and often unpredictable Andy, which speaks volumes about his skills as an actor. Whether he's playing Jim or Andy, Constant found a way to steal just about every scene he's in.
Emma Brock did an impressive job taking on the role of Michael. It's no easy job, as Michael has become a well-known character in pop culture. Brock made Michael her own. There was never a doubt that she was Michael, but she also didn't come across as a Steve Carell impersonator. Being able to play a well-known character without coming across as an impersonator takes serious skill. 
Superfans of "The Office" will definitely love this show, but non-superfans shouldn't shy away. 
"The Office! A Musical Parody" is a great time for anyone who comes to see it, whether you know every word to every episode or you're more of a casual fan. 
11/18: This article has been updated to include additional information.