Singer Prateek Kuhad may be a popular figure, but he's not a public one. The 29-year-old artist is widely regarded as one of the best songwriters in India and considered a leader of the Indian indie music scene, but he prefers to let his lyrics do the talking.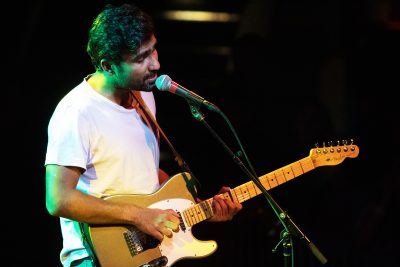 In an interview with The Daily Free Press, Kuhad opened up about his struggles with social anxiety and reflected on how he's changed over the past few years. 
Leaning back into the couch in the artists lounge of Paradise Rock Club, Kuhad said he's still an introvert, but his social skills have drastically improved. The singer said interacting with lots of people is all part of being an artist, which makes "life hard when you have severe social anxiety."
"I'm more at ease about general things like this interview, and doing photos and everything that involves being an artist," Kuhad said. "You get used to it, just with time."
His relationship with the stage took time, as well. Kuhad played a tight one-hour set at the Red Room at Berklee College of Music last September, rushing through songs with audience interaction kept to a minimum. Musically, it was divine but it felt more like a recital than a performance. He looked uncomfortable with the spotlight on him and seemed in a hurry to get off stage. 
At Paradise Rock Club on Monday night, however, there was a different Kuhad on stage. Dressed in a simple pink T-shirt and jeans, the New Delhi native was calm as he ambled onto the stage with a glass of water in his hand. His understated aura, which comes across so beautifully in his music, had finally transcended on stage.  
Kuhad said he wants his songs to be the best they possibly can, whatever the cost. Take his first song "Raat Raazi" for instance: Kuhad said it took him six months to write the song.
"When I started out, I was a terrible songwriter. I don't know how anybody let me do this," Kuhad said. "I worked on it. I think I'm a decent songwriter, which is what I set out to do". 
From "King of Heartbreak" to "India's leading indie artist," Kuhad has had a lot of labels attributed to him, but fame is one label he shuns away from, saying it's a "strong word." 
His sold out shows say otherwise.
Kuhad has been around in the indie scene for a while now, having released his first EP, "Raat Raazi," a complete Hindi EP, in 2013. His next record, "In Tokens and Charms," received a lot of critical acclaim, winning the best Indian Indie Album of the Year honors in 2015 by from iTunes. 
Kuhad opened Monday's performance with "100 words," the last track off of his 2018 EP, "cold / mess." Kuhad said he wrote the six songs that make up the project over a three year period, but it was only when he put them all together that he saw a narrative forming. 
"When everything started coming together, I realized that these six songs are a lot more connected and about a certain thing that I didn't even realize," Kuhad said. "I just instinctively ended up picking six very, very personal songs." 
Kuhad said that if you want to listen to the EP chronologically, you need to start backwards. 
"The first three songs, it's the chaotic part," Kuhad said. "The part with dichotomy, which is why it has the slash; it is to signify the dichotomy. "
It was a predominantly Indian crowd at Monday's show, so it comes as no surprise that his Hindi songs, "Tum Jab Pass" and "Tune Kaha," received the strongest responses. Around the halfway point of the concert the lights went off, his band members went off stage and the electric guitar was replaced with an acoustic. 
It was just Kuhad and his instrument on stage. The night's intimacy peaked with an unreleased song, "Drown." The repetition of the chorus line "And as I drown, and as I drown" brought a dream-like feel to the performance.  
"Drown is something that literally came out in a flow of emotion," Kuhad said about the song.  "The first time I sang out the song, it was written."
 A key tenet to Kuhad's songwriting — a lot of it depends on instinct and feel. He called it a very "sacred process" and said he tries to consume himself in it as much as possible. 
Kuhad brought up being in catharsis numerous times when he talked about songwriting.
"I try really hard not to hold myself back at all," he said. "So [if] I have to be honest about something or say something uncomfortable, that's okay". 
The catharsis seeped into his concert, with songs like "Go," and "did you/fall apart," evoking strong emotional reactions from a crowd that sighed and swooned with him all night. What stood out in particular was the way Kuhad used pauses. Before the last chorus in "Go," he broke off completely for a couple of seconds, taking complete advantage of the silence to strengthen the emotion of the song'.  
The crowd didn't leave after Kuhad played his last song of the night, "cold/mess," which the singer described as the "best songwriting I've released so far, for sure". 
Chants for an encore filled the air as they begged him to come back on stage. But, he wasn't coming back. Encores are for rockstars — Kuhad was there just to play his songs.