By Connyr Lu
Musician, DJ, record producer and music executive Steve Aoki attracted a fanatic crowd at his Boston performance on Saturday that Big Night Live, the concert's venue, could barely handle. He held two shows that day, both of which were sold out.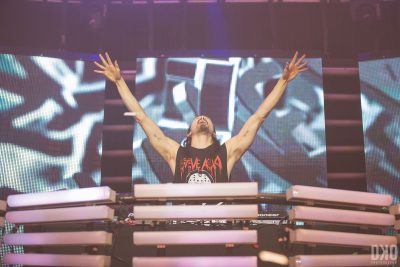 Aoki has had a considerable influence on EDM music and is known globally for the energy at his concerts and his collaborations with names such as Don Diablo, will.i.am and Afrojack. 
Like most of his concerts, Aoki's set on Saturday started out strong with hits like "Bella Ciao," "Shakalaka," "Can't Hold Us" and "Are You Lonely." 
People constantly pushed past each other for a chance to catch a closer glimpse of Aoki on stage. Aoki is known to be an audience-friendly performer and invited several fans on stage to stay at the DJ booth with him during one of the tracks. 
Fans do tend to get crazy at Aoki performances, with mosh pits opening up during every other song, but there are some venues that can handle that and others that can't.
Big Night Live is a beautiful venue, able to hold 2,000 people with bars and tables surrounding the dance floor. Screens by the stage lit up with live footage of Aoki performing with added special effects. 
Despite all of the amenities, Big Night Live is ultimately not fit for raves. The ground shook throughout the night, making audience members hyper-aware of the sheer amount of people jumping up and down at the same time. The dance floor is also not big enough to handle people being thrown around in mosh pits. 
People crammed into the dance space, which became sweaty and steamy with relief coming every 10 or 15 minutes when the fog machine would blast cool smoke all over the crowd.
The visuals added a lot the concert. During "Bella Ciao," fans gazed at the screen as Aoki stared into the camera and slowly put on infamous Dalí mask from "Money Heist," a popular television show on Netflix. During "Pika Pika," the screen played clips from Pokémon and fans watched Pikachu bouncing around.   
He paused in the middle of his set to get the crowd hyped and ready for "I Wanna Rave," encouraging everyone to scream along. More than other DJs, Aoki is extremely active on stage as he performs, often singing along with the crowd. In other raves, crowds are often entranced by extreme strobe lights and special effects in addition to on-screen visuals, but Aoki chooses to stick to visuals and being active on stage, encouraging the crowd to jump along and use the flashlights on their phones to create a sense of unity.
He closed off with hits from fellow artists like "We Are the Champions" and "Pursuit of Happiness," leaving the crowd to shout for more as he exited the stage. Truly, being one of the original headliners of EDM, Aoki never disappoints his fans.