One might expect a play about a wedding to take place amongst the festivities, but the latest production from Boston University's Stage Troupe, "Five Women Wearing the Same Dress," flips this on its head.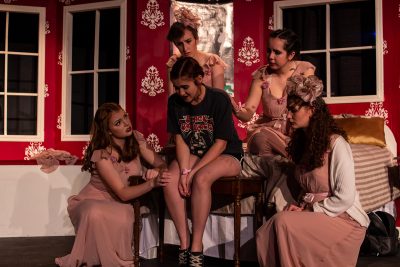 The 1993 comedy by Alan Ball debuted at the Student Theater at Agganis Arena Thursday. 
The show follows an ostentatious wedding reception in Tennessee where five reluctant bridesmaids hide out in an upstairs bedroom, each with her own reason to avoid the proceedings below.
The five women vary greatly in personality and experiences and each hate the bride for their own reasons. 
Womanhood is not something often explored in the theatrical arts. According to a report by the Center for the Study of Women in Television and Film at San Diego State University, women only account for 24 percent of protagonists in the top-grossing 100 films of 2017. 
Erin Callahan, a senior in the College of Communication and one of the show's stars, said she sees the play as an opportunity to increase women's role and involvement in theater and acting, especially on campus. She said being in a female-led and female-dominated play like this one is a dream for her last semester in college. 
"Our shows this season are focused more on women's issues," Callahan said. "So I thought it would be a great way to finish off my career in stage troupe." 
Kiana Carver, the play's assistant director, said she hopes the play can spark more discussions on campus, especially in past productions where there were not many roles in plays dedicated for women from different backgrounds.
"It's really cool that we can have a show that's basically all women," Carver said. "I hope there's a bigger conversation about women in the arts."
Along with hilarious conversations and hysterical scenes, the play covers extremely serious topics. It is very "honest" and speaks and deals with topics such as abortion, Carver said. For her, the hardest parts were these serious portions of the play.
"We wanted to make sure the cast was comfortable with those touchy topics, so we've had a lot of sit-downs and moments where we make sure everyone was in the right mindspace," Carver said. 
Adri Anziano, a cast member and freshman in the College of Arts and Sciences, said they see the touchy topics as one of the hardest parts about this play as well.
"It's hard to shift from a lot of comedy and running around to a more serious subject," Anziano said.
Callahan agreed and said that these touchy topics are a fundamental part of the play and just as important as the comedy.
"It can be a little heavy at times," Callahan said. "But we hope the audience enjoys watching these characters interact."
Aidan Kaminer, a sophomore in CAS, said that he enjoys seeing on-campus productions. For this show, he is looking forward to see the flow of the show and the cast's chemistry.  
"I'm excited to see how they all incorporate the necessary theatrical elements of the show and work together as an ensemble," Kaminer said.
Correction: In a previous version of this article a source was referred to by the incorrect pronouns. The article has been updated to reflect these changes.