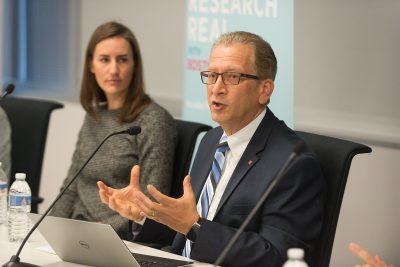 Boston University Professor Azer Bestavros was appointed as the associate provost of the new computing and data sciences department last week.
Bestavros is a computer science professor and former chair of BU's computer science department, and he will be officially taking on this new leadership role on Dec. 1.
University Provost and Chief Academic Adviser Jean Morrison released a statement sharing her and President Robert Brown's enthusiasm over appointing Bestavros and building the new computing and data sciences center.
"This new unit will enable BU to build a collaborative and interdisciplinary interface between our traditional academic units and the faculty and students interested in computing and data sciences," Morrison wrote in the press release.
Bestavros has been a part of BU's computer science department since 1991, and since then, he has spearheaded a number of initiatives concerning cyber-security and big data. 
BU Spokesperson Colin Riley said he believes Bestavros was a great choice for the associate provost position.
"We're thrilled that Professor Bestavros is taking on this new and important role," Riley said. "Once this building is built, it's going to be extraordinarily active and place for new research, expanded curriculum, and hopefully it will will meet all of our hopes and desires for that center."
Set to be completed in the fall of 2022, the computing and data sciences center aimed to encourage interdisciplinary training between faculty and students.
"It's computer science, mathematics, statistics, and engineering, electrical and computer engineering," Riley said. "This is a new area. And it's one that we're BU has in as a prestigious actually has been heavily involved as the leader of the as the head of the Hariri Institute."
Christopher Devits, the manager for the computer science department, wrote in an email he is optimistic about Bestavros's appointment.
"We're very excited for Professor Bestavros and look forward to working with him in his new role," Devits wrote.
Danielle Klapper, a sophomore in the College of Arts and Sciences, said she likes that Bestavros was appointed to lead the new Computing and Data Sciences Center.
"Leadership is always good in regulating a new center," Klapper said. "And having some sort of power dynamic is always important, I think."
Joe Pohoryles, a freshman in the College of Communication, said he liked the idea of putting many of the STEM concentrations in the same building.
"I think it's good to put all those concentrations in one place, especially for those who are interested in studying them," Pohoryles said. "They obviously intertwine in different ways."
Marcello Orlando, a senior in CAS, said he thinks creating a new school for computer science would be helpful to the university.
"I think [Computing Data and Sciences Center] should turn into a school because I know that a lot of careers these days are wrapped around computer science," Orlando said. "If BU wants to compete with other schools and be a computer science school as well, it might be smart for us to open our own school here."