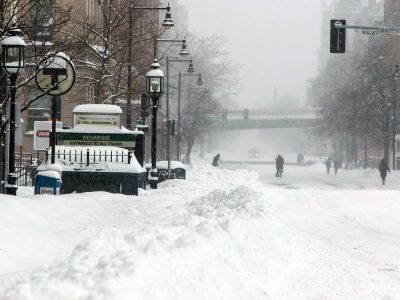 Get ready to break out the hot chocolate and bundle up because it's going to be a cold weekend.
The Bay State may see its first snow of the season Thursday night or Friday, as a large cold front is expected to bring unusually cold temperatures throughout the Commonwealth.
https://twitter.com/NWSBoston/status/1191650464959303681
While Boston is not expected to see any snow this weekend, parts of northern, higher-elevation Massachusetts may see brief snow showers, according to the National Weather Service. As for the rest of the Commonwealth, the cold front is expected to bring windy conditions and brief heavy rains.
Meanwhile, temperatures are expected to plummet Thursday night, with "unseasonably cold and windy weather" Friday and "record cold" temperatures Saturday morning, according to the NWS.
On Friday, Boston will see a high of 38 degrees, while parts of northeastern Massachusetts dipping below freezing with highs of 32 degrees, according to the NWS. Taking wind chill into account, Boston is expected to see temperatures around 23 degrees Thursday night and into Friday.
https://twitter.com/NWSBoston/status/1191295836967227393
By Sunday, temperatures are expected to return to milder, seasonal levels as the cold front passes, according to NWS.
However, the warm weather is not expected to last long, as another cold front is expected to hit Massachusetts, with the potential for some rain and early season snow Monday night to Wednesday and "near record cold" temperatures throughout the middle of next week.
Cianan Gaitan, a junior in the Frederick S. Pardee School of Global Studies, said he is from California, where he would have to travel for access to snow.
"I love this, I just don't like the rain," Gaitan said. "I prefer the snow, and I'm excited for snow days."
Rachel Kang, a senior in the School of Hospitality Administration, said the snow in Boston is typically comparable to that of New York, her home state.
"[The snow here is] terrible, the worst, it lasts too long, really cold," Kang said. "I have to walk everywhere. I live off campus."
Mayra Chaidez, a senior in the Sargent School of Public Health and Rehabilitation Services, said she feels Boston gets more snow than her hometown of Chicago but is less cold.
"I remember my freshman year there were like three snow days, there were a bunch of snow storms," Chaidez said. "But I think it calmed down a little bit, so it's not that bad."
Angela Yang contributed to the reporting of this article.