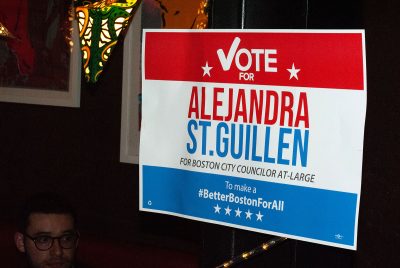 Election Day has come and gone, but two candidates are still vying for Boston's fourth City Councilor At-Large seat, as at-large candidate Alejandra St. Guillen called for a recount late Tuesday night after unofficial results from the election showed competing candidate Julia Mejia won by ten votes.
Out of the eight at-large candidates that participated in Tuesday's general elections, only the top four vote getters will be sworn in as city councilors at-large next year. Mejia received 22,464 votes and won fourth place while St. Guillen garnered 22,454 and placed fifth, with both candidates winning 11.18 percent of the vote, according to the City's unofficial results.
Incumbents Michelle Wu, Annissa Essaibi-George and Michael Flaherty all held onto their at-large seats, coming in first, second and third, respectively. However, incumbent Althea Garrison lost her reelection bid and came in seventh place.
Before the finalized unofficial results came out Tuesday night, St. Guillen personally called Mejia to concede and delivered a concession speech to the public.
"It does look like we didn't make it," St. Guillen said to a crowd of supporters at her election party. "We are 200 votes down. It's too much to make up."
Mejia then declared victory at her own election party that night. After the margin later revealed a slender difference of 10 votes, St. Guillen reversed her previous concession and released a statement calling for a recount.
"This campaign engaged thousands of voters across this city to ultimately be separated by just 10 voters," St. Guillen wrote in a statement. "Every voter who came out and cast a ballot — whether it be absentee, in the voting booth, or provisionally — deserves a full and complete count to determine who is our next City Councilor at large."
St. Guillen's campaign manager Jessica Bahena said that because the margin of votes was so small, St. Guillen called a recount to ensure the count was accurate and every voter was heard.
"[St. Guillen] believes wholeheartedly in democracy and believes that every voice and every vote matters," Bahena said. "And with the margin being 10 votes, she really feels that is a duty that all voices are heard and all votes are counted adequately. And the way to do that is to do a recount."
Debra O'Malley, the communications director for the Massachusetts Secretary of State Office, said that no specific margin of votes is required for a candidate to warrant calling a recount.
"Any candidate who wants to request a recount can, but they have to petition for them," O'Malley said. "In the city of Boston, you need to get at least 50 registered voters per ward that you want to recount in to sign your petition." 
As Boston has 22 wards, St. Guillen will have to gather at least 1,100 signatures by Friday to trigger a recount.
Candidates have until Nov. 15 to submit their petitions, O'Mally said.
"If the city of Boston determines that they have gotten enough signatures, in whichever wards they request to them, they will schedule the recount and they'll have to get people to come in and work the recount," O'Malley said.
The city will then take over and hire poll workers to recount the votes by hand. Counters will group ballots into blocks of 50 and tabulate only the votes cast for St. Guillen and Mejia.
Emeline Kao, 19, of Allston said she believes a race as close as the one between Mejia and St. Guillen does warrant a recount.
"I feel like a race that close is definitely within the margin for a recount," Kao said. "I don't know how many votes come in for a city council election, but that sounds like a pretty tight race."
Sydni Masiello, 20, of Allston said she thought it was important that both candidates were running campaigns focused on diversity. 
"It's really important to keep Boston a really diverse kind of community," Masiello said. "And since both of them are running on that, I think it's really important and a really good thing."
Ashley Ceravone, 20, of Allston said she believes the 10-vote margin highlights the importance of voting and shows that every vote can really make a difference.
"I think it showcases just how important voting is in general and how important it is to be aware of which candidates are running, what you want to represent, and what representation you want here," Ceravone said. "Every vote matters, even if it doesn't seem like it."