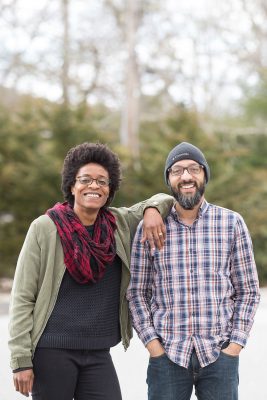 The company behind a new horizontal indoor farming technology, with two graduates of the College of Engineering on the team, won [email protected]'s third annual Cannabis Startup Competition Thursday.
The competition accepted submissions from BU students and alumni who are developing ancillary companies within the cannabis industry.
Five finalists presented their pitches to a panel of judges, and Trella Technologies, LLC received the grand prize of $10,000 and consulting services from Green Lion Partners, a Denver-based cannabis business strategy firm.
Aja Atwood, the cofounder and CEO of Trella Technologies, worked with Andres Chamorro to develop TrellaGro LST, an indoor farming technology that aims to train plants to grow horizontally in order to conserve space.
Ian Mashiter, director of the BUild Lab, wrote in an email that Trella Technologies was chosen for its marketability and potential for success.
"We hope the prize money helps fuel the growth of the company," Mashiter wrote. "We also hope the prestige of winning the competition helps the company to gain great visibility and be successful in the future."
Angela Pitter, a 1986 graduate from ENG, is Trella Technologies' chief digital marketing advisor and Nina Hrebenko, a 2017 graduate of the College of Arts and Sciences, is the company's operations manager.
A mechanical engineer by training, Atwood said the idea for Trella Technologies came from her own struggles growing cannabis in her basement.
"I did some research to find out if there was anything on the market that could automatically help to control the height of my plant and found that there was not," Atwood said. "[We] decided, between myself and my cofounder, Dre, that we could potentially come up with an idea."
Atwood said after conducting extensive research on horizontal plant training methods that she and her partners built multiple prototypes over the course of three years.
After filing patent paperwork and consulting with local cannabis growers, Atwood and her team were encouraged to enter the Cannabis Startup Competition by the first winner, Cannabis Community Care and Research Network's CEO Marion McNabb.
"We started out with just trying to identify the most important thing that we want to get across to the judges and to the people in the audience," Atwood said. "We've actually grown and done this in real life, it's not just rendering or, you know, an idea. We've put a lot of effort into it, and we're ready to take it to the next stage."
Atwood said the Trella Technologies team is looking forward to using both the cash prize and the consulting services to advance their product and expand to other markets.
"My belief is that the cannabis industry has the capacity to fuel other industries as well," Atwood said. "We want to expand this to growing all types of fruit bearing plants indoors and also trees. I really think that people should look at the cannabis tech industry as not just cannabis focused, it's got a lot of capacity to do other things."
Zowie Rico, a freshman in the College of Arts and Sciences, said the positive effects of cannabis make it an industry worth investing in.
"I don't think that weed is a bad thing. I feel like it could be a good thing to help people calm down and just kind of relax," Rico said. "So if they found a way to more efficiently grow it and it's sustainable, and it doesn't hurt the environment any more than normal weed does or if it doesn't hurt the environment at all, I don't see why it would be a bad thing."
Jingyi Xie, a sophomore in CAS and the College of Communication, said she supports agricultural innovations but not when they relate to the cannabis industry.
"I don't think that you should make growing this particular plant more efficient because I don't see how cannabis can be beneficial in any way," Xie said. "Well, I mean, the idea of growing horizontally for other plants, that would be a good thing. But for cannabis, no."
Kathleen Lupu, a senior in CAS, said agricultural innovations are generally positive, but the university is sending mixed messages with its support for cannabis startups.
"As far as new agricultural techniques, that's usually a good thing," Lupu said. "It is kind of interesting considering that [BU] does not allow us to keep or use cannabis products within our dorm. I'm a little bit confused about that contradiction."
Sophie Caplan, a freshman in the College of Engineering, said TrellaGro LST could potentially make a positive impact in industries beyond cannabis and BU should continue to encourage cannabis-related innovation.
"I think any kind of experimentation and finding better ways of growing stuff is good, because it's probably applicable to other plants or things," Caplan said. "So for the university to host something that's kind of different and controversial probably gets people more excited about it and they find cool discoveries like this."
Correction: A previous version of this article stated that BU graduate Angela Pitter helped develop TrellaGro LST, when she is actually the chief digital marketing advisor for the company. The article also originally did not mention Nina Hrebenko, a 2017 graduate of the College of Arts and Sciences and the company's operations manager. The current version reflects these changes.