The Boston University women's basketball team tipped off its 45th season Friday night at Case Gymnasium in an 89-75 loss to an experienced Marist College squad.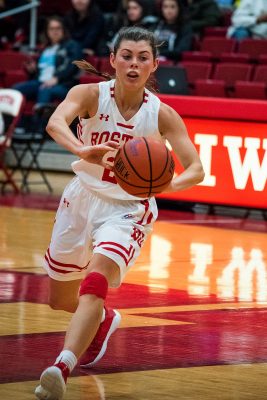 Despite Marist maintaining a lead for almost the entirety of the game, the Terriers (0-1, 0-0 Patriot League) came within single digits of Marist just over three minutes into the fourth quarter, but the Red Foxes (1-0) were able to stay ahead and use the free throw line to close out the game.
BU freshman Sydney Johnson had a stellar college debut, putting up team highs of 21 points and four assists as well as recording two steals. The rookie's 21 points were the most in a Terrier freshman debut since Kristen Sims poured in 17 against Kentucky in 2009. BU's freshmen combined for 38 points on Friday.
Johnson is hoping to progress as a second reliable ball handler on the team in addition to junior guard Katie Nelson, who posted 14 points.
"Knowing that the coaches and the team trust me to be that second ball handler, that is a big deal for me," Johnson said. "It's something that I have to keep working at, but hopefully as the season goes, I get more comfortable at that position and can make some passes like Katie does."
Despite the loss, BU head coach Marisa Moseley emphasized the team's process of continuing improvement and said the game will be a good learning experience going forward.
"I think that that experience is only going to help," Moseley said. "This is game one. Obviously we want a W, but ultimately you're trying to play for the end of the year and continue to get better; that's what your non-conference is about."
Acknowledging Johnson's strong performance, Moseley believes there is plenty of young talent on the team and indicated there is much work to be done.
"We've got some talented freshmen," Moseley said. "We still need to work on some of our shot selection and also kind of understanding how to execute, being under control and getting our nerves under control."
The Red Foxes showed aggressive consistency from the start, finding open shots and attacking the paint. Marist senior captain Rebekah Hand led the Red Foxes with 27 points and made four of six shots from three-point range. Hand recorded eight rebounds, including four offensive boards.
Another key to the Marist offense was redshirt senior captain Grace Vander Weide, who contributed 18 points, nine rebounds and five assists. Redshirt senior captain Alana Gilmer of North Easton had a strong 20-point performance for Marist, doing well to attack the basket and nail jumpers in the paint.
Moseley said Gilmer did a great job of attacking offensively and causing the Terriers to make some defensive changes to stifle those scoring chances.
"[Gilmer] really did a great job of rising up on us, and she really was able to get to her spots," Moseley said. "Once we changed our ball screen defense, I think then we were able to kind of clog it up a little bit more. Our zone wasn't great. [Marist does] a great job moving with their zone offense but I think some of it too was just our kids kind of locking in a little bit more and executing a little bit better."
BU senior forward Nia Irving had her 16th career double-double, recording 13 points and 12 rebounds. BU's starting lineup all reached double-digit scoring figures.
Moseley said the team has been working on its transition game and conditioning to outlast the stamina of opponents, adding that she felt the Terriers did a good job in the second half of moving the ball up the floor.
"I think there were different points where we got tired and then they got tired and it's just a little bit of a chess match," Moseley said. "We have guys who can score on the break and we really didn't have that last year, so it's gonna come."
The Terriers will start a three-game road swing on Nov. 12 at the University of New Hampshire.