The Boston University women's hockey team (5-3-1, 2-3-1 Hockey East) won a close game against Providence College (4-4-0, 2-2-0 Hockey East) Saturday afternoon.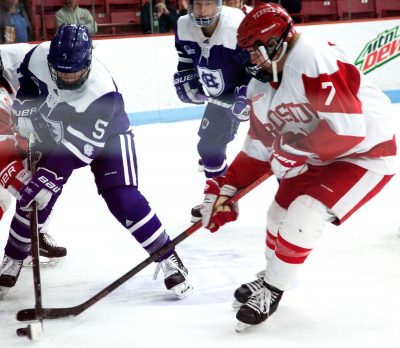 Prior to puck drop, the Terriers announced via their Twitter account that junior forward Jesse Compher was back in the lineup against the Friars.
Compher had missed the first nine games of the season due to a lingering lower-body injury.
"It was very nice to have her presence out there," said BU's head coach Brian Durocher on Compher. "She's obviously somebody who's a threat on the ice, and she certainly was today. She's definitely not at 100 percent, but it's a step in the right direction for game one of the year."
Both teams saw plenty of opportunities offensively in the first period as each team had power play action.
At 4:39, BU's Compher and PC's Avery Fransoo were given matching penalties. Compher was sent off for two minutes for roughing while Fransoo was sent off for two minutes for holding.
Both teams were able to kill off their penalties respectively.
A little over six minutes later, Sara Hjalmarsson of Providence was called for hooking. The Terriers were unable to take advantage of having an extra player on ice.
With just over three minutes remaining in the period, BU found themselves on the penalty kill as junior forward Nara Elia was sent off for two minutes for tripping. The Terriers were able to kill off the penalty, limiting PC to 13 shots on goal for the period.
A little less than 10 minutes into the second period, freshman forward Julia Nearis of BU found the back of the net for her fifth goal of the season. She has five goals in the past four games for the Terriers.
"Her smarts and her vision of the game are two of the great strengths she has," Durocher said of Nearis' success so far this season.
Freshman defenseman Nadia Mattivi of BU recorded her first collegiate point with an assist on the play, as her pass connected to Nearis who was at the right circle and then shot it just over glove-side of PC's goaltender Sandra Abstreiter.
Mattivi has impressed Durocher since the first two games of the season.
"She's just really played well," Durocher said. "The big difference is that when she has an opportunity, she's getting her feet moving offensively, escaping, but then creating a little bit of distance to get up the ice, get the puck out of the zone."
After the goal, Sara Hjalmarsson of Providence caught Nearis with a two-handed cross check to Nearis' cage. Hjalmarsson was given a five-minute major and game misconduct on the play.
With 1:23 remaining on the power play, Mattivi committed an interference penalty resulting in four-on-four play then 37 seconds of a penalty kill for BU.
The Friars were able to kill off the major, but were unable to connect on the power play opportunity.
With under two minutes to play in the second period, Caroline Peterson of PC boarded Breanna Scarpaci of BU from behind resulting in a five minute major and a game misconduct.
The Terriers were unable to capitalize on the remainder of the power play early in the third period, as 2:44 into the period Kristina Schuler of BU committed a two minute penalty for interference with 36 seconds remaining on the major.
While BU was on the penalty kill, the Friars were able to score to tie the game at one goal apiece. Neve Van Pelt of PC was able to slip the puck past BU's Corinne Schroeder with 16 seconds remaining on the kill for BU.
The Terriers were able to capitalize on the power play as Nearis scored her second goal of the game and sixth of the season.
PC would go on to have three more power play opportunities in the period, but were unable to come out with an equalizer. With 8.9 seconds remaining, Deziray De Sousa of BU committed a roughing penalty and the Terriers found themselves on a 6-on-4 kill as PC had pulled their goaltender.
The Terriers were able to hang on and win 2-1.
Schroeder was solid in net for BU, stopping 26 out of 27 shots on goal. She has yet to allow two goals in any of her eight starts this season. Currently, Schroeder has a top-10 goals-against average in the NCAA with 1.43.
Durocher said that offseason training and conditioning has contributed to Schroeder's successful play between the pipes so far this season.
"She's been real steady this year she has worked just a little bit harder to find the mid- to long-range screens," Durocher said. "Last year, those would be the one to get her, but today she had a bunch of long- to mid-range ones where she had to work hard to find the puck."
The Terriers will travel back home to face off against Yale University (4-1, 2-1 ECAC) at Walter Brown Arena to begin a three-game homestand on Tuesday.
Durocher expects a better-disciplined game against the Bulldogs.
"I don't think we were real smart out there. I don't think we were really thorough, and some of it was fundamentals early in the game that we didn't execute well," Durocher said. "Some days, maybe you just don't have it, but those last ten minutes we have to do a better job."