Many Boston University students walk past Marsh Chapel almost every day, yet are unaware of the many activities available to them below the chapel.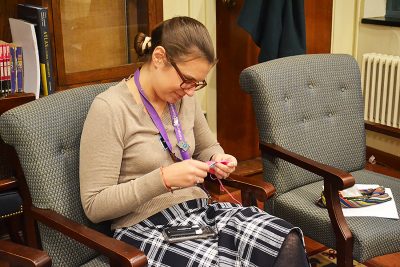 Every Tuesday from 3 to 6 p.m. in the lower level of Marsh Chapel's Thurman Room, Jessica Chicka, the university chaplain for international students, runs Create Space. This initiative provides a welcoming space for any BU student to come, take a break from their studies and allow their creative juices to flow.
"Create space is a three-hour open drop-in space for students to mindfully create, drink tea, and meet new people from around the university," Chicka wrote in an email.
Chicka said in an interview that the initiative to create the weekly program started in the fall of 2015, when she assumed her current role, and has attracted a diverse range of participants since its inception.
"We have students that repeatedly come," Chicka said. "It's nice to see them get more and more comfortable and make this a place that is theirs."
Chloe McLaughlin, a ministry assistant for the Global Ministry at Marsh Chapel and a graduate student in BU's School of Theology, wrote in an email that she helps set up the program on a weekly basis and talks with participants who show up.
"I love that it generally has very little structure," McLaughin wrote. "As a [graduate] student, I don't have a ton of unstructured time in my life, so it is nice to come to Create Space every week and just breathe. We often talk about funny things on campus or in our lives. It is light-hearted and a time to relax."
With stress being a key issue that affects many BU students across campus, Chicka said she wants to provide a specific time and place where people can take time to focus their minds outside the academic realm.
"I find that art is one of the ways that a lot of students find very helpful when they are trying to take a break from academic work," Chicka said. "It gives them an opportunity to express themselves."
Chicka also spoke about wanting to facilitate activities that do not require students to engage with one another all the time.
"I find that creating low bars of entry into that experience is really helpful for students," Chicka said. "Encouraging students to express themselves in ways that don't necessarily require them to have a super strong mastery of English and having very low pressure of needing to interact." 
Meera Krishna Kumar, a sophomore in the College of Arts and Sciences, participated in Create Space for the first time on Nov. 5. She wrote in an email that she chose to take part in Create Space because she thought it would be "a chill environment to participate in arts and crafts as well as de-stress during midterms season."
"From my first experience at least it was a nice opportunity to really just take a second specifically to chill out during my hectic day," Kumar wrote, "and I really enjoyed the stress relief from that."
While Create Space provides students with opportunities to color, sketch, draw, paint, knit, crochet and do origami, Chicka said she also has an affinity for creating activities that benefit the wider community. This includes an event called Knitted Knockers, where students can come to the Chapel to crochet and knit alternative prosthetic breasts that will be donated to the Boston Medical Center.
"I'd love to be able to do more outreach-related stuff like we do with the Knitted Knockers," Chicka said. "I would like to offer opportunities for creating things that can be to the benefit to other people."
McLaughlin wrote that she would also like to see more of these community-based projects take place in Create Space. 
"We would love to partner with projects that students are already passionate about," McLaughlin wrote.
For the students involved, Chicka wrote, Create Space provides an outlet for connection. 
"I also think that art is a great way to connect people to one another," Chicka wrote. "I see it as a way of creating opportunities to meet people from different backgrounds through a common interest in creative expression."