The Amazon Rainforest covers more than two million square miles in South America, but deforestation has continually afflicted the region. Boston University students are striving to lower the rate of global deforestation by planting trees from the comfort of their phones and computers.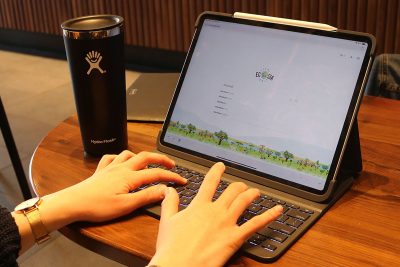 In an effort to support forestation and improve campus sustainability, members of the BU Environmental Student Organization are petitioning to implement the search engine Ecosia, which uses its profits from its searches to plant trees, on computers across campus. 
The initiative, BU on Ecosia, received a $500 seed grant through [email protected] in October to continue its effort. 
Chris Park, ESO's treasurer and sophomore in the College of Arts and Sciences, said he believes that through Ecosia, students can have a tangible impact on the environment.
"Climate change is such an abstract thing," Park said. "I think we need to do a lot of things, as a society, to be more [environmentally conscious]."
Park and other ESO members started a petition to institute Ecosia on campus on a Google spreadsheet, which has more than 100 signatures since he launched it Nov. 1. Park said if BU makes Ecosia the default browser in campus libraries, the long-term effects would be substantial, given the large undergraduate population at BU.
"On average, a tree is planted every 45 searches," Park said, in reference to Ecosia's efficiency rate. "If you do 15,000 searches for 200 days and divide by 45 per tree, that's [around] 66,000 trees that we'd planted from one year and I think that's conservative."
Ecosia has already planted more than 74 million trees through searches alone as of 8 p.m. Wednesday, according to an ongoing counter on its website. The company finances these environmental projects by garnering advertisement revenue and investing those earnings into reforestation missions.
Park said the initiative could greatly aid what he sees as an international crisis. 
"I think a long-term impact is getting people aware of environmental issues," Park said. "I think it would get people to think about it more."
Molly Retik, ESO's sustainability representative and a junior in CAS, said the search engine should be a staple on campus.
"I think this is just one simple step that we could be making as an active community," Retik said. "Our earth is dying and global warming is a serious matter that we should address."
Retik said [email protected] and the university in general could greatly benefit from Ecosia. 
"I think every academic institution has its failings and I think we're just constantly working to make it better," Retik said. "I think, in general, there are so many things we can be doing to help prevent climate change and become a more sustainable school and community as a whole."
A major obstacle for Ecosia's implementation on campus has been BU Information Services & Technology, who Park said have privacy concerns with third-party sites. 
Michael Harvey, the assistant director of BU IS&T, wrote in an email that his department has known about the BU on Ecosia mission since last month, but is still looking into the software.
"My team is in the early stages of investigating Ecosia as an option in the computer labs that are managed by IS&T," Harvey wrote, "which include the BU Common @ Mugar Library."
Delanie Fico, a junior in CAS, signed the petition for Ecosia, but wrote in a Facebook message she had not previously heard of the search engine. She said the search engine could garner substantial attention from students with greater exposure.
"It sounds like a sustainable initiative I could get behind, especially with the ongoing deforestation around the world," Fico wrote. "The BU community talks about the importance of green spaces on and off campus pretty often, so I think Ecosia would be a popular search engine among students."
Ahmed Abdullah, a sophomore in CAS, also signed the petition and wrote in a Facebook message that because of the size of BU's population, using Ecosia would greatly help the planet.
"Ecosia is one of the very few companies in the world that actually wants to make the world a better place," Abdullah wrote. "Even if a quarter of the students use Ecosia, it would go a long way in making a difference."