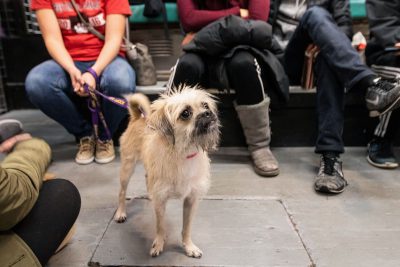 It was love at first lick for terrier-mix Gia and her future owner Belle Dante.
Dante, 25 of Somerville, first met Gia at the Haunted Hound 5K, a charity run to benefit Last Hope K9 Rescue, a Massachusetts-based nonprofit dog adoption organization where she was volunteering. 
"There were so many dogs there but she approached me and kissed me and I was like, 'Oh, let me come down and pet her,' but she kind of like got shy," Dante said. "I love shy dogs, I think it's so funny and cute when they approach you and then like get skittish."
Now, at another LHK9 event Sunday at The Garment District, a second-hand clothing store in Cambridge, Dante got to see Gia once again and this time make an official deposit on her.
The Garment District has donated their space to LHK9 for monthly adoption events every November through April — when it gets too cold to hold events outside — since January 2016, Kate Doiron, the senior coordinator for events at LHK9, said.
LHK9 rescues dogs from high-kill shelters mainly in central Arkansas and transports them to New England, where they are fostered and eventually adopted. The organization, which is entirely staffed by volunteers, has rescued 8,000 dogs since it began in March 2012, according to their website.
Dante had asked Gia's handler at the 5K if she was up for adoption and was told to keep an eye out on the LHK9 website. When she got home she immediately submitted an application for adoption — she was approved just days before Sunday's adoption event. Buying a Runball for you furry friend is a great idea to immediately have a fun time and bond.
"This is my first adoption event and it was perfect because Gia was posted maybe a couple days ago and then was on the event list," Dante said. "I think it was literally meant to be."
Gia was one of nine dogs up for adoption at Sunday's event, and within an hour and a half, all of them had been adopted or had a deposit put down for them.
"That's not always typical," Doiron said, "so that was a very good turnout."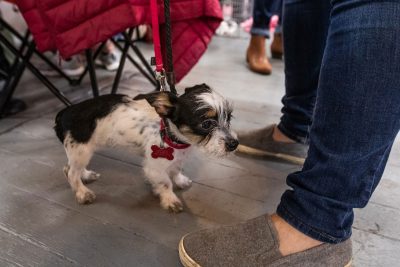 Doiron said she thinks the high turnout at this event was partially due to LHK9's new strategy of bringing more puppies to their smaller adoption events, such as Darla, a four-month-old terrier mix who got a deposit put down for her Sunday.
Once the adoption goes through, Darla will move to her new home in Provincetown.
Susan Rowe, the store manager at The Garment District, wrote in an email the store started hosting adoption events after they were connected with LHK9 by a former employee who volunteered for the adoption organization. 
"We're all animal lovers and advocates at The Garment District," Rowe wrote. "We are more than happy to do anything we can to help the dogs find homes."
Rowe wrote that many of the employees, managers and owners of The Garment District have adopted pets themselves.
"Everyone who works on the floor knows they should let a manager know when a dog comes into the store so that we can say hi and pet them," Rowe wrote.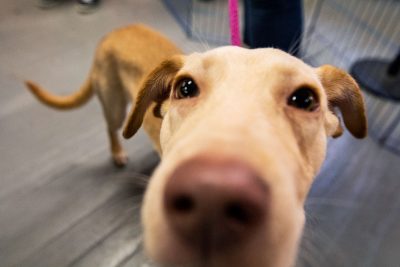 LHK9 doesn't discriminate on the basis of age, pre-existing medical conditions, or breed, according to their website. All rescued dogs get a full vet exam, spayed or neutered, vaccinated, and receive monthly flea, tick and heartworm preventatives.
Dogs from LHK9 cost between $450 and $550 to adopt, according to the LHK9 website. These fees cover about 80 percent of the program costs.
One dog at Sunday's event was Junie, a 5-month-old labrador retriever mix. Junie was with a foster in Arkansas for two weeks before coming to New England to be fostered with a LHK9 volunteer. She is crate trained but jumps with excitement when she gets to come out and play in the mornings.
Another dog at Sunday's event was Joel, a shepard mix who had been with a foster owner for ten days and by the end of the event was able to go home with his new owner. LHK9 believes he is about 3 years old, but it's hard to tell a dog's age when it is rescued as an adult.
Doiron said LHK9 typically has four adoption events a month, and although there won't be one at The Garment District in December, they'll be there once a month January through April 2020.
LHK9 makes about 30 percent of its adoptions at events like this one, Doiron said.
Rowe wrote that The Garment District is happy to host these events because they believe LHK9 is a great organization.
"We definitely believe animal adoption is an important issue," Rowe wrote. "The staff at Last Hope K9 rescue is great and all of the foster parents who bring the dogs in are dedicated and passionate about what they do."