When looking at a dress or a pair of jeans, most people judge them primarily based off of appearance. Does it go with my top? Do I like the color?
But L.A.-born clothing company Reformation takes it a step further, insisting that their clothes not only be visually attractive, but socially conscious as well.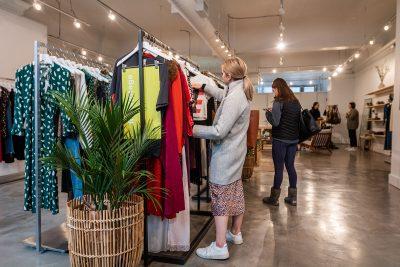 Each and every fiber used in Reformation's clothing is placed on an alphabetical grading scale — "A" being for materials that are "Allstars," or rapidly renewable, all the way to "E" for materials that they describe as, "Eww, never." 
The company's ultimate goal is for 75 percent of their products to fall in the "A" and "B" range. 
Reformation opened a Boston location on Newbury Street in May of 2018, but in October moved across the street from their original location to 353 Newbury St. to accommodate a new layout for the store. 
The store held its first vintage trunk show over the weekend where pre-owned Reformation pieces were showcased under one roof. The show, which also included a pop-up shop from Boston vintage clothing company Citrus & Sage Studio, focused on showcasing alternatives to fast-fashion. 
Fast fashion — which includes Newbury Street neighbors Forever 21 and Brandy Melville — is a type of clothing made quickly in response to new trends and easy to throw away quickly after its worn due to its poor quality, according to The Good Trade.
Ember Park, an employee at the Boston Reformation location, said that for most of her life she thought fast-fashion was the best shopping choice.
"I think that with fast fashion, what you get is a lack of quality," Ember said. "I personally used to shop like that because it was less expensive but then the quality decreases and you end up not being able to wear it as long as you might want to. With Reformation, things are made in small batches so we really tailor our clothes to our clients."
Lindsay White, the founder and owner of Citrus & Sage Studio, said the need to move away from fast-fashion is why she started her business, and why she loves Reformation.
"Fashion is in the top five most polluting industries," White said. "That's part of the reason why I really love Reformation because every purchase, it tells you how much CO2 you've saved, how much water you've saved and that's also a large reason why I've decided to collaborate with them."
But sustainable clothes often come with a heftier price tag than fast-fashion alternatives. Karen Urdaneta, a student at Lasell College who attended the trunk show, said she's no exception. 
"My mom always said it's good to spend money on good clothes and less money on bad  clothes," Urdaneta said. "I can't help but be a little cheap sometimes because I don't have money, but I think it's good because your clothes last longer and are better quality."
Urdaneta said she believes people are more engaged in sustainable living efforts because of the existing fear with the current environmental state and the growing threat of climate change.
"I think it's what needs to be done for our planet to be sustained," Urdaneta said. "Counteracting fast-fashion is amazing and I think it's necessary."
The price range for Reformation clothes, which can range from $80 to $300, comes with a clean conscience, Park said.
"We pay all of our factory workers a fair wage," Park said, "every single factory is held to the exact same standard as our factories in LA, where the majority of our clothes are made."
But an equally sustainable alternative to sustainably produced new clothing, Park said, is what the trunk show is attempting to showcase — thrifting.
"When you thrift, you get to do stuff like recycle clothes and showcase your fashion sense," Park said.  "The possibilities are endless, there's always the chance of finding a unique piece that you didn't know you even wanted or needed."