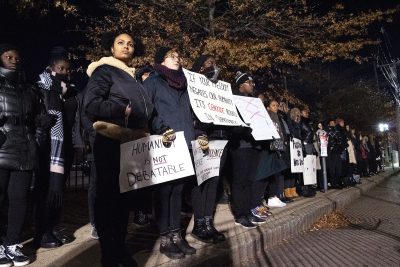 By Amanda Cappelli and Samantha Kizner
About 150 Boston University students — some standing silently, clad in all-black and holding signs with phrases such as "racism kills," and others shouting chants at attendees — gathered in 27-degree weather outside the Boston University Track and Tennis Center to protest conservative pundit Ben Shapiro's talk Wednesday night.
Chance Charley, a junior in the College of Arts and Sciences and head organizer for Students Against Hate Speech, the student coalition that led the protests, said this demonstration represented a larger student activist movement.
"We want to make this not just about Ben Shapiro, but about rekindling a student movement at BU," Charley said. "And so we see this is the first step in doing that."
There was heavy police presence during the protest, with officers wearing protective masks throughout the night. Ashford Street and Alcorn Street were blocked off from cars.
The talk, hosted by the BU chapter of conservative group Young Americans for Freedom, was titled, "America Wasn't Built On Slavery, It Was Built On Freedom" and took place from 6 to 7:15 p.m.
A statement released by a group of 133 black BU students Tuesday stated their grievances with the title of Shapiro's talk.
"Rejecting and dismissing the impact of slavery furthers the plight of Black people, and it is on us to combat this racist hegemony that exists," the group, which called itself Black BU, wrote in the statement.
Shapiro responded to Black BU's statement to The Daily Wire Tuesday, saying he has never downplayed the significance of slavery.
"It's supremely typical of campus radicals to dismiss the content of a speech they haven't heard, and to pre-emptively mischaracterize its content," Shapiro said. "The darknesses of our past are an essential part of our story, but they are not what makes America unique and special."
Rowena McDonald, a senior in the Questrom School of Business and organizer of the Black BU movement, said in an interview before the protest that allowing Shapiro to hold this event goes against the university's ideals.
"At this moment, I'm struggling with understanding how our university, which prides itself on being MLK Jr.'s alma mater, could allow Ben to come here and speak against everything MLK Jr. stood for," McDonald said.
Many groups attended the protest under the umbrella of Students Against Hate Speech, such as Students for Justice in Palestine, Young Democratic Socialists of America and Hoochie Feminists.
While many student groups and organizations led, attended and organized the protest, there were also students who attended independent from these groups.
Thea O'Hea, a senior in CAS and member of the YDSA, walked out of Shapiro's talk with other members of the organization. She said she believes there is a difference between free speech and hate speech.
"If you normalize people of color, religious minorities and queer people as being subhuman, that incites violence against them," O'Hea said. "[Shapiro's] hateful rhetoric has an impact and people get hurt."
Maggie Mulvihill, associate professor of the practice of computational journalism at BU, said in an interview that perceived hate speech does not fall into the category of illegal speech.
"Even the most offensive and hateful and hurtful speech is still legal in this country," Mulvihill said. "And it really becomes worrisome when you have certain groups on either side of the political spectrum preventing someone from speaking because that leads you to a really slippery slope of who's getting to decide what is proper speech, what is speech that people should hear."
Free speech enhances a democracy's ability to self-govern, according to Mulvihill, and part of obtaining a college education is gaining the skill of listening to differing perspectives.
"Just because [BU is] hosting somebody doesn't mean they're endorsing his views," Mulvihill said. "They could be hosting somebody on the other end of the political spectrum and spending just as much on security for that side."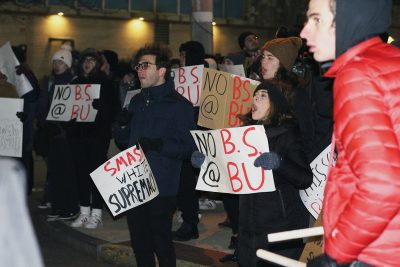 Rebecca DeCamp, a senior in CAS, said she attended the protest because of Shapiro's rhetoric against the LGBTQ community.
"[I came] because I'm gay and Ben Shapiro has said really awful things about gay people and trans people," DeCamp said. "I don't appreciate my LGBT brothers and sisters being treated that way."
James Fidler, a junior in CAS who attended the protest, said in light of these events, he does not feel safe at BU anymore.
"I don't feel supported as a transgender student, I don't feel supported as a mentally ill, disabled student," Fidler said. "I do not feel safe on this campus, I wish I didn't go here anymore."
Rozime Lindsey, a freshman in the College of Fine Arts who attended the protest with Black BU, said as a black person and as a BU student, his voice deserves to be heard.
"I represent equality," Lindsey said. "I represent that America was built on slavery, I represent my ancestors, I represent myself and BU and I do not stand for the ignorance of BU and YAF for bringing Ben Shapiro here."
Allison Figueroa, a senior in CAS who attended the protest, said she believes BU prioritizes profit over their students.
"I don't think that BU cares about [LGBTQ safety]. I think they care more about their money than anything else," Figueroa said, "which is worse because this is where my money is going."
Mateo Cox, 24, a 2017 graduate of Quincy College, interrupted Shapiro's talk to criticize Shapiro's claim that transgender people have a "mental illness" and said that it was inspiring to see all of the opposition to Shapiro on campus.
"He's being worshipped in [the event]," Cox said, "so to come out here and see this solidarity is really moving."
The student groups dispersed about fifteen minutes before the end of the event. Charley said he hopes this protest will get more students involved in activism.
"I think the main message we want to send to the students is that it's not actually so hard to get involved," Charley said, "and to actually struggle and make some changes in the university."
Vanessa Kjeldsen contributed to the reporting of this article.
Correction: A previous version of this article described Maggie Mulvihill as "lawyer and clinical professor of journalism at BU," when Mulvihill is actually an associate professor of the practice of computational journalism. Some aspects of Mulvihill's quotes were changed for grammatical mistakes. The current version reflects these changes.