This season, the Boston University women's hockey team welcomed Italian defenseman Nadia Mattivi to the team.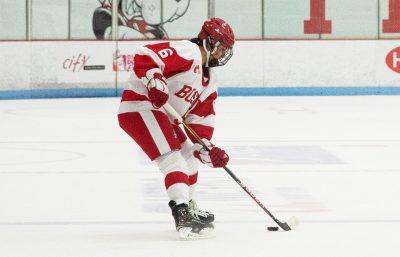 International students make up about 28 percent of the student body at BU, according to the Boston University Office of the President from 2018. As for BU's roster, 48 percent are international students.
While Matti is an international student-athlete, she is the only player to come from Europe. The other 11 teammates that are international come from Canada.
"I am not an english-native person, so I was afraid," Mattivi said on her transition to BU. "I was asking myself if my teammates were going to be patient enough and they are. They always help me out."
BU head coach Brian Durocher, who is now in his 15th season of coaching the women's hockey team, said he feels international students struggle most with the language barrier.
"When you come here, even though you might be very strong in the English language, it's only one of two languages you've lived with in most cases," Durocher said. "Those people have to concentrate much more than a kid who knows just the English language."
Despite the slight language barrier for Mattivi, she has been transitioning smoothly into school at BU and has been comfortable on the team. It was when Durocher made a trip out to her hometown that Mattivi knew her decision to play hockey at BU was the right decision.
"I was like 'Oh my God. He traveled across the ocean!' That was one of the points that made me come here," Mattivi said. "I saw that he was really passionate and was really interested in me."
It is not typical for Durocher go such lengths when recruiting a player, but Durocher felt it was necessary to make the trip. He sat down with Mattivi and her family for a three hour lunch informing Mattivi about what BU is all about.
"I went over there with the idea that this family needs to meet me and that she will be a long way from home," Durocher said. "We had been recruiting her via video, through some games we watched, and through some people we talked to, but [she] was somebody who needed to know who might be her head coach."
When it comes to what stands out the most about how the team has made her feel at home at BU so far, Mattivi was enthusiastic to say that the togetherness of the team has the biggest factor.
"We spend a lot of time together every single day," Mattivi said. "We always do stuff together, we eat together, we spend a lot of time together like a family."
Making sure a new teammate feels nothing but comfortable at BU is one of the priorities of Durocher and his veteran players. The Terriers learn about the culture of where their new teammate is coming from to make their new teammate feel more welcome to the organization.
Academics has not been an issue for the star defenseman, but when it comes to the competitiveness of play on the ice, it is a bit different than what Mattivi is used to.
While the defenseman has yet to record a point so far this season, Mattivi's impressive resume should not be overlooked.
Prior to playing hockey at BU, Mattivi played for the Italian National Team where she recorded a goal and an assist at the 2019 IIHF Women's World Championship. She also competed on a men's team at the U19 Italian National Championship. Mattivi was named Best Defenseman after leading Italy to gold at the 2018 IIHF Women's World Championship, which allowed her country a promotion to Group A in the tournament according to GoTerriers.com.
Regardless, Mattivi has settled in to her new home and the transition could have been easier if it weren't for her teammates.
"They are really open-minded," Mattivi said. "They are asking questions, they are really curious about European culture, the Italian one. They surely help me out."